2016–2017 Season
Click on a name a reader's name to bring up their photograph and information.
Next Reader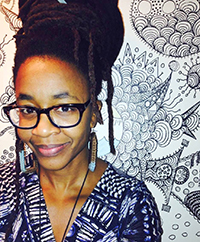 Nnedi Okorafor
Welles-Brown Room, Rush Rhees Library
April 25, 2017, 5:00 PM
Nnedi Okorafor's books include Lagoon (British Science Fiction Association finalist for Best Novel), Who Fears Death (World Fantasy Award winner for Best Novel), Kabu Kabu (a Publisher's Weekly Best Book), Akata Witch (an Amazon.com Best Book of the Year), Zahrah the Windseeker (Wole Soyinka Prize for African Literature winner), and The Shadow Speaker (CBS Parallax Award winner). Her latest works include her novel The Book of Phoenix (Arthur C. Clarke Award finalist), her novella Binti (Nebula winner for Best Novella, Hugo and British Science Fiction Association Award finalist) and her children's book Chicken in the Kitchen (Africana Book Award winner). Akata Witch 2: Akata Warrior and Binti 2: Home are due out in 2017. She is an Associate Professor of English at SUNY—Buffalo.