Internships in Sustainability
Academic Year
Applications for year-long internships are solicited each fall through the Office of Student Employment. Interns work approximately 10 hours per week.
---
Summer
The Sustainability Community-Engaged Summer Fellows program is open to students enrolled in undergraduate programs in Arts, Sciences, and Engineering. These fellowships provide students with a community problem-based applied research and learning experience, working under the direction of a team of faculty members from Arts and Sciences. It is a full-time program that will run from June 3 to July 30.
---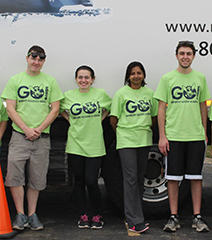 "I never before had the hands on experience in physically improving the University's green practices that this internship provided me with."
- Jacob Post, Far Right, 2015 Intern