An American in Warsaw: Hugh Gibson, US Minister to Poland, 1919-1924
M.B.B. Biskupski, Stanislaus A. Blejwas Endowed Chair in Polish and Polish American Studies at Central Connecticut State University
Friday, April 26, 2019
7:30 p.m.
Sloan Auditorium, Goergen Hall, UR River Campus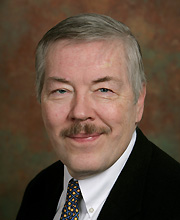 A talk by M.B.B. Biskupski, Stanislaus A. Blejwas Endowed Chair in Polish and Polish American Studies at Central Connecticut State University, followed by a reception and book signing.
Hugh S. Gibson served from 1919 to 1924 as the first US Minister Plenipotentiary to the new Second Polish Republic. Crucially involved with world-shaping events, Gibson faithfully recorded his eyewitness impressions and interactions with the nascent Polish state, bickering Allies, and increasingly isolationist Americans. The material, presented in the book An American in Warsaw. Selected writings of Hugh S. Gibson, US Minister to Poland, 1919-1924, draws from both State Department dispatches and personal letters, most of it appearing in print for the first time.
Edited by Vivian Hux Reed, M. B. B. Biskupski, Jochen Böhler, and Jan-Roman Potocki, the book provides historical context through a comprehensive introduction and series of annotations. Reminiscences by Gibson's late son Michael Francis Gibson provide personal context.
B. B. Biskupski holds a Yale doctorate and has published seventeen books and over sixty essays. He has taught at Yale, the University of Rochester, and was a Fulbright Professor at the University of Warsaw. He holds the Commander's Cross for scholarship of the Republic of Poland.