An Evening of Polish Music
Ania Vu, piano and Paulina Swierczek, soprano
Friday, April 5, 2019
7:30 p.m.
Interfaith Chapel, UR River Campus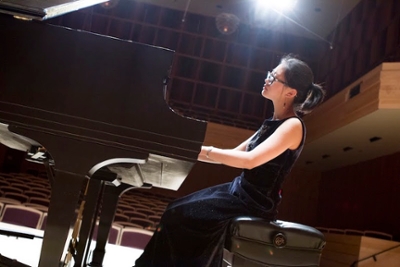 Music of Chopin, Szymanowski, Bacewicz, Vu, Lutosławski, Moniuszko, and others.
---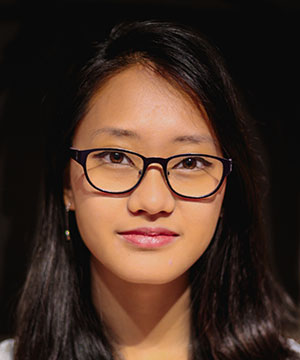 Ania Vu
Born in Warsaw, Poland, Ania Vu (née Vu Dang Minh Anh) is pursuing a PhD in composition as a Benjamin Franklin Fellow at the University of Pennsylvania. In May 2017, she completed her Bachelors' degrees with Distinction in composition and music theory from the Eastman School of Music, and a minor in social psychology from the University of Rochester.
Her current mentors are James Primosch, Anna Weesner and Amy Williams, and she had studied with Robert Morris, Ricardo Zohn-Muldoon, Oliver Schneller, Carlos Sanchez-Gutierrez, and David Liptak. As a composer, Ania is a finalist (2018) and recipient (2017) of an Honorable Mention from the ASCAP Morton Gould Competition Young Composers Awards, and the Belle Gitleman (2016), Bernard Rodgers (2015), and Louis Lane (2014) awards at Eastman. Performers of her music include the International Contemporary Ensemble (ICE), TAK ensemble and the Iridium Quartet. Her music has been read by the JACK Quartet, Daedalus Quartet, Curtis Symphony Orchestra, Eastman Philharmonia, Eastman School Symphony Orchestra, and Eastman Wind Ensemble. She has participated in the Red Note Festival New Music Workshop in Normal, Illinois, SoundSCAPE Festival in Cesena, Italy, and the Festival Women in Music in Rochester.
Besides composing, Ania is an active piano performer, placing emphasis on performance equal to composition. Her past piano teachers include her mother Hong Anh Dang, Irina Rumiancewa, and Vincent Lenti and she's currently studying with Amy Yang. As a several award recipient of national and international piano competitions in Europe, she has performed at the Royal Castle in Warsaw and three times at the Hanoi Opera House in Vietnam. She performs solo and chamber music, classical and contemporary repertoire, works of her own and of her composition peers. In 2015, she participated in "Music Inspire Africa", a program in which musicians traveled to Zimbabwe and South Africa to expose local students to classical music through performance and teaching.
Outside of music, Ania enjoys studying languages, wandering in all kinds of museums, and ballroom dancing.
---
Paulina Swierczek
Praised by the Rochester City Newspaper for her "honeyed tone," and by the Boston Globe for "a rich voice that could go in a blink from speaking to soaring" - as well as her "killer side-eye" - soprano Paulina Swierczek is a vibrant story-teller, combining technical facility with a passion for communication.
Concert highlights include Brahms's Ein Deutsches Requiem, Mendelssohn's Lobgesang, Poulenc's Gloria, Haydn's Lord Nelson Mass, Bachianas Brasileiras no. 5 of Villa-Lobos, and Schoenberg's Pierrot Lunaire. Favorite roles include Therese (Les Mamelles du Tiresias), Fiordiligi (Cosi fan Tutte), The New Prioress (Les dialogues des Carmelites), Donna Anna (Don Giovanni), and the Countess Almaviva (Le nozze di Figaro.) She made her international operatic debut in November 2016 at the Teatro Diana in Mexico premiering Don't Blame Anyone by Carlos Sanchez-Guttierez and Ricardo Zohn-Muldoon. A dual citizen of Canada and the United States, she has appeared in recital across both countries, championing works of living composers and bringing fresh light to more traditional fare. A 2017 Fellow of the Tanglewood Music Center, she performed Berg's Sieben Frühe Lieder with the TMC Orchestra, songs of Ella Fitzgerald alongside Dawn Upshaw and Stephanie Blythe, and cantatas of J. S. Bach led by John Harbison. She also premiered Anthony Cheung's All Thorn, but cousin to your rose, alongside festival curator and longtime ICE member Jacob Greenberg. She was thrilled to be invited back to the Tanglewood Music Center in 2018 where she had the honor of working with Tony Arnold and Yo-Yo Ma on Chen Yi's As in a dream; she also appeared a second time with the TMC Orchestra, performing Lutoslawski's Chantefleurs et chantefables.
Her 2018/19 season includes debuts with the Broad Street Orchestra (Mozart's Requiem) and The Orchestra Now (Beethoven's Egmont, op. 84) as well as a Fellowship at Stephanie Blythe's Fall Island Vocal Arts Seminar. She recently also debuted with the Albany Symphony as Madame Herz in Der Schauspieldirektor, and has been invited back to present arias of Mozart and Wagner with them in March. She is the co-director of I AM I AM I AM; this musical collective focuses on examining and dismantling gender tropes and stereotypes by re-examining and re-contextualizing old favorites alongside newly composed works, and will be featured on the Albany Symphony's 2019 Summer Music Festival. She is also thrilled to be joining Pittsburgh Festival Opera for the Summer 2019 season as a Featured Artist in their Mastersinger program under Jane Eaglen and as the understudy for Brunnhilde in Wagner's Die Walküre.