Pawlik/Moniuszko-Symphonic Project
Saturday, November 21, 2020
4 p.m.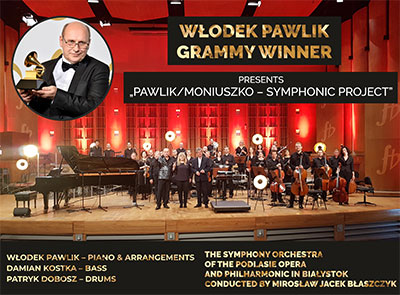 Stanisław Moniuszko (1819 - 1872) is, after Frederic Chopin, the greatest Polish composer of the Romantic period, universally considered a father of Polish opera. During the Partitions of Poland in the 19th century his Home Songbooks, as well as the operas, such as "Halka" and "Haunted Manor", served as an important impetus in the fight for the restoration of the nation's independence. Many of his songs and operatic arias became popular among many generations of Poles to come.
Włodek Pawlik – jazz pianist and composer – the only Polish winner of a Grammy Award in a jazz category, enchanted by the beauty of Moniuszko's melodies, created their new, instrumental sound. Jazzy renditions of the famous Moniuszko's songs will be performed by Włodek Pawlik, his jazz trio, and Podlasie Philharmonic Orchestra from Białystok, conducted by Maestro Mirosław Jacek Błaszczyk.
Aside from the works by Moniuszko, the musicians added a piece by Ignacy Jan Paderewski (1860 – 1941) into the program, namely the Nocturne in B minor, performed by the jazz trio. May this piece remind us of the splendid figure of that Great Pole, pianist, composer and the first Prime Minister of the reborn Second Polish Republic, who gained a huge popularity in the American continent as one of the greatest virtuosos of the 20th century.
The concert is supported by the Ministry of Culture and National Heritage of the Republic of Poland.
Download the video of the one piece that will be played at the concert.
Concert Program
Prząśniczka (The Spinner Girl)
Szumią Jodły ...(Humming Fir Trees)
Motyw Z Kurantem/Aria Stefana z opery "Straszny Dwór" (The Chime Motif/Stephan's Aria from the opera "The Haunted House"
Ten Zegar Stary.../Aria Skołuby z opery "Straszny Dwór"(This Old Timer/Skoluba's Aria from the opera "The Haunted House"
Znasz-Li Ten Kraj ...(Do You Know The Land...)
Gdyby Rannym Słonkiem (If The Morning Sunshine..)
Pieśń Wieczorna (The Evening Song)
Nokturn B Dur (Nocturne B Flat) -I.J.Paderewski
Kum I Kuma (A Chap And A Lady)