Autumn Leaves: An All-Chopin Recital [Skalny Concert]
Virtual recital by Daniel Vnukowski
Saturday, October 17, 2020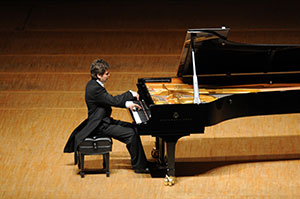 3:30 p.m. Pre-concert talk (with an opportunity to engage in a video chat with Mr. Vnukowski)
4:00 p.m. Virtual piano recital
A concert to celebrate the 210th anniversary of Chopin's birth, featuring Chopin's Second Piano Sonata, Op. 35 "Funeral March," among other works.
Hailed as "a pianist to watch" by New York Classical Review and "a dashing pianist" by The Sunday Times, Polish-Canadian pianist Daniel Vnukowski has performed throughout Europe, North America, South America and Asia in prestigious concert halls. During the Covid-19 crisis, Vnukowski's virtual live streaming project from home has made waves internationally, with his performance of Gershwin's Rhapsody in Blue reaching over one million hits and 500,000 views. The virtual concerts have been endorsed by NPR.ORG, BBC Music Magazine, Ludwig Van in Toronto, The New Classical FM, ideacity and Fazioli Pianos.
Engage directly with Daniel during the pre-concert talk, followed by an amazing, virtual performance on the Fazioli F308 concert grand – in the comfort of your own home.
The concert is free.
Visit https://www.danperforms.com/event/autumn-leaves-chopin/ and use the coupon code "SKALNY2020" for FREE admission. You will receive an email with the access link.
Program
Etude in C-sharp minor, Op. 25 No. 7
Mazurka in C-sharp minor, Op. 63, No. 3
Fantasie-Impromptu in C-sharp minor, Op. 66
Sonata No. 2 in B-flat minor, Op. 35
Grave – Doppio movimento
Scherzo
Marche funèbre: Lento
Finale: Presto