Skalny Lecture
Dr. Marcin Jarzabek, Associate Professor, Department of History, Jagiellonian University, Kraków, Poland
Wednesday, December 4, 2019
7:30 p.m.
Sloan Auditorium, Goergen Hall, UR River Campus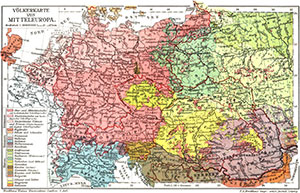 Borderlands: use and misuse of the concept, or understanding the cultural diversity in Central and Eastern European history
The concept of "borderland" is broadly used in scholarship and public debate in order to frame cultural diversity and historical complexity of a place or region. As many of such popular notions, it is exposed to overuse and misuse that may lead to misunderstanding of what makes a borderland, borderland. In the lecture it will be argued that cultural richness is neither unique, nor sufficient characteristic of borderland. Instead, we need to think of cultural heterogeneity not as an exception but as a common feature of the whole Central and Eastern Europe before the 20th century.
Free and open to the public.