Global Perspectives vs. Local Realities
Monday, November 25, 2019
7 p.m.–8:30 p.m.
Sloan Auditorium, Goergen Hall, University of Rochester River Campus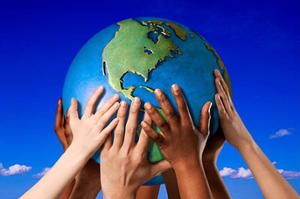 As a part of International Education Week, Skalny Center would like to invite you to a discussion-based event called Global Perspectives vs. Local Realities. Audience will have a chance to share their perspectives on the topic of intercultural education. Some of the prompting questions include:
How applicable are global perspectives in a local context?
To what extent should intercultural and/or international perspectives be encouraged to be voiced?
In what ways does the presence of a large percentage of international students impact the university?
What are the differences and similarities in international and domestic students' experience and educational process?
This event will follow a global-café format. After a short opening by the Director of the Skalny Center, Professor Randall Stone, and an introductory presentation by Vice Provost for Global Engagement, Jane Gatewood, audience will be divided into small, facilitated discussion groups. In this setting, audience will have an opportunity to share their opinion in an informal conversation on global perspectives in a local context. Coffee, tea, cookies, and fruit will be enjoyed. To conclude, discussion groups will rejoin, and group facilitators will recapitulate the main discussion points.
This event if free of charge and open to the public, sponsored by Office for Global Engagement, The Department of Modern Languages and Cultures, as well as the Skalny Center for Polish and Central European Studies, and co-organized by Eastern European Students' Association.