Flights, Memory, Emigration: Polish Writing Now
A Panel Discussion with Olga Tokarczuk. Also on the panel: Sean Bye, Polish Cultural Institute New York, and Jakub Czernik, Jagiellonian University, Poland.
Friday, September 28, 2018
7:30 p.m.
Sloan Auditorium, Goergen Hall, UR River Campus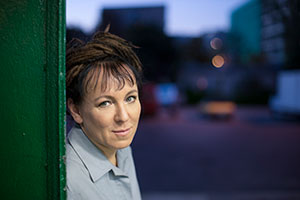 This event is co-presented by the Skalny Center for Polish and Central European Studies, Open Letters Books, and the Polish Cultural Institute New York.
Free and open to the public. Parking on designated University lots is free after 7 p.m.
About the Speaker
Olga Tokarczuk is one of Poland's most celebrated and beloved authors, a winner of the Man Booker International Prize, as well as her country's highest literary honor, the Nike. She trained as a psychologist at the University of Warsaw, and her interest in Jung continues to influence her work. Her first book, a collection of poems, was published in 1989. She is the author of eight novels and two short story collections, and has been translated into a dozen languages. Critics have compared Tokarczuk's nonlinear novels and short stories, which are often punctuated by mysterious maps and diagrams, to the work of celebrated European authors like W.G. Sebald and Milan Kundera.
"One among a very few signal European novelists of the past quarter-century." -- The Economist
"A household name in Poland and one of Europe's major humanist writers" -- The Guardian
First published by Fitzcarraldo Editions in the UK last spring in translation by Jennifer Croft, Olga Tokarczuk's intoxicating novel Flights (Bieguni) is now out in the United States from Riverhead. It has taken critics, booksellers, and readers alike by storm. The London Magazine pegged the book as "a brilliant, experimental tour de force" and praised its "liquid, mellifluous prose." Nobel Prize winner Svetlana Alexieivich called Tokarczuk "a magnificent writer." Exquisitely translated by the award-winning novelist Jennifer Croft, Flights delves into the mystery and wonder intrinsic to the human experience. It is made up of 116 vignettes — both fiction and nonfiction — ranging from a Polish man's desperate search for his wife and child after they disappear during a vacation in Croatia, to a historical account of Chopin's heart being smuggled into Warsaw beneath his sister's skirt. In May, Tokarczuk and Croft won the Man Booker International Prize for Flights, making it the first Polish novel to win the world's leading prize for books in English-language translation.
Photos