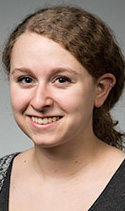 Adina Ripin '20, a physics major from Old Saybrook, Connecticut, will perform research in a physics lab at the Technical University of Kaiserslautern, where she will study individual atoms submerged in Bose-Einstein condensate.
Sixeen University of Rochester students, the largest contingent from North America, will work at German research institutes this summer after being offered DAAD RISE scholarships.
Rochester also had the highest number of applicants in North America, with 49. The 16 participants is six more than the previous University high set in 2016.
The highly competitive program was established in 2005 and is sponsored by the German Academic Exchange Service, Germany's publicly funded but independent organization of higher education institutions, known by its German initials as DAAD. RISE stands for Research Internships in Science and Engineering.