Student Profile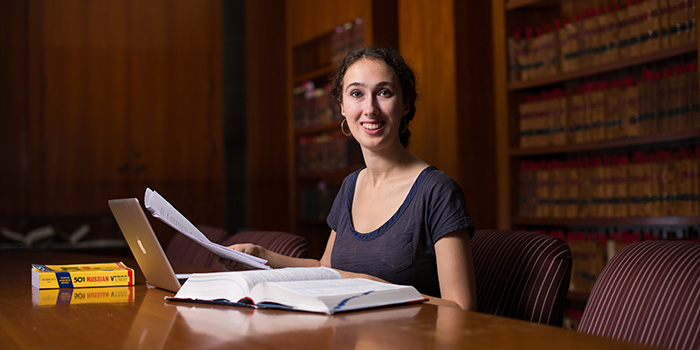 Name: Hannah Chute
Hometown: Queens, NYC
Graduation Year: May 2015
Degree:Master of Arts in Literary Translation
Why did you choose to pursue a degree in Literary Translation?
While I was applying to college, I realized that my combined love for languages and books made literary translation an ideal area for me. I was already interested in Rochester because of Eastman, and so I was delighted to learn that it has one of the best translation programs in the country. I got the undergraduate Certificate in Literary Translation Studies while I was completing a dual degree at Eastman and the College (in Comparative Literature and Harp Performance). I decided to do the master's as well, since it is more in-depth and provides more opportunities than the undergraduate program. 
Why did you choose the University of Rochester's programs?
Lots of universities these days offer MFAs in which students can choose to focus on translation. But Rochester stands out for offering a curriculum that has translation as its primary subject, rather than treating it as a secondary concern within the area of creative writing. The Rochester program provides resources for translators that other institutions just can't offer, including Open Letter Books, a fantastic on-campus publishing company that deals exclusively with works in translation. 
Tell us a little about the program:
MALTS is a very small program—only three to five students per year. Its size makes it an excellent environment for aspiring translators, since each student gets a lot of individual attention from the faculty. But Rochester also has a tight-knit and surprisingly large community of literary translators that reaches out to the master's students. One of the biggest perks of translating in Rochester is a weekly event called Plüb. Every Thursday, the area's literary translators and publishers get together at a local pub and workshop a translation project. It's informal and low-pressure, but the advice you get comes from professionals, and it's always spot-on.
What about industry experiences?
As a MALTS student, you have access to Open Letter's offices and personnel, who work with students to help them understand the industry and get their manuscripts published. A crucial part of the program is the internship component. Students usually fulfill this aspect of the curriculum at Open Letter, but opportunities are available at presses that focus on world literature around the US and abroad. For example, I got to spend last summer interning at New Directions Books, getting a feel for the ways in which different presses—particularly non-profits—work within the publishing industry.