Biography of Harrison E. Howe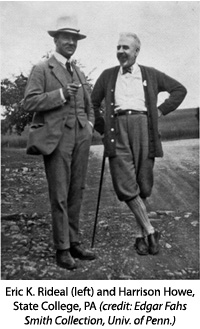 Written by F. J. Van Antwerpen in an obituary for Science (82)
January 22, 1943
Dr. Harrison Estell Howe was born in Georgetown, KY, in 1881, a son of William James and Mary (Scott) Howe. He was educated at Earlham College, Richmond, IN, where he received a B.S. degree in 1901. He did post-graduate work in chemistry at the University of Michigan and at the University of Rochester, receiving the M.S. degree from the latter institution in 1913. What was to be a long and profitable association with chemical industry began for Dr. Howe in 1902 when he became chemist for the Sanilac Sugar Refining Company in Croswell, Michigan. In 1904 he joined Bausch and Lomb Optical Company, Rochester, NY, where he was in turn chemist, office manager, and editor. He married, in 1905 to Miss May McCaren. He joined Arthur D. Little, Inc., and Arthur D. Little, Ltd., in Boston and Montreal. In 1916-17 he was chemical engineer and assistant to the president of the Canadian branch of the Little firm. During World War I, Dr. Howe was consultant to the Nitrate Division of Army Ordnance. In 1919 he became chairman of the Division of Research Extension of the National Research Council during which term he raised a considerable portion of the money necessary to build and furnish the Marine Biological Laboratories at Woods Hole, Mass., one of the largest and most important laboratories in the country devoted to study of ocean life. This position he terminated in 1921 when he assumed the editorship of Industrial and Engineering Chemistry, his title and position at the time of his death.
During his busy life, Dr. Howe's services to the chemical profession were recognized in many ways. Honorary degrees were conferred upon him by the University of Rochester, Sc.D. (1927); Southern College, LL.D. (1934); Rose Polytechnic Institute, Eng.D. (1936); South Dakota State School of Mines, D.Chem. (1939). Decorated in 1926 by Italy as an Officer of the Crown, Dr. Howe also received another outstanding honor on November 6, 1942, when the American Section of the Society of Chemical Industry awarded him the Chemical Industry Medal. This honor is granted yearly to outstanding scientists responsible for the application of research to industrial processes. He was also a fellow of the American Association for the Advancement of Science.
In 1922, Dr. Howe was chairman of the committee on work periods of the American Engineering Council of the Federated Engineering Societies, and he took a leading part in reducing the hours of labor in industry. A survey made by his committee showed that the tendency throughout the world was toward the eight-hour day and abolition of the prevalent twelve-hour day.
He was a trustee of Science Service and a member of the Purdue Research Foundation. Strongly in favor of scientists sharing in the wealth created through their discoveries, Dr. Howe was an advocate of action for devising a plan under which the legitimate claims of scientists to remuneration could be recognized. He was a member of the advisory board of the Lalor Foundation and general conference leader in the Institute of Politics, Williamstown, Mass., in 1926-29.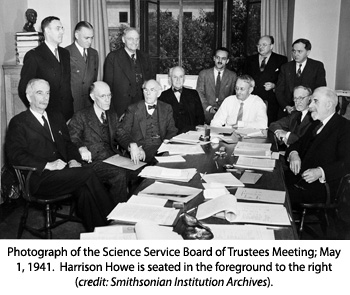 Dr. Howe was a colonel in the Chemical Warfare Reserve of the U. S. Army and a member of the A.C.S. advisory committee to that service. He was chairman of the Chemicals Group of the Chemical Priorities Committee of the Office of Production Management. Later he became chairman of the advisory committee of the Chemical Section of the War Production Board.
A member of many organizations, Dr. Howe brought to all of them his enormous capacity for work. He served two terms as director of the American Institute of Chemical Engineers and was their representative for ten years on the American Engineering Council of which he was treasurer for eight years.
His work for the American Chemical Society, in addition to his editorship, entailed many committees and responsibilities too numerous to list. Suffice to say that he always had time to advise and labor in his chosen field and to him chemistry paid tribute by continually asking for his helping hand. His clubs included, among others, the Cosmos Club, the Torch Club and the Chemists' Club. He had a deep and abiding interest in Rotary International. Their unselfish aims and desires for service to mankind appealed to him and gave him still another opportunity to serve. He was president of the Washington, D.C., club, governor of the 34th district, member of its magazine committee, and a director in 1936-37.
Throughout his life, Dr. Howe had been constantly in touch with the application of science, particularly in chemistry, to the problems of everyday life. He wrote and edited many volumes for the public, and among his works are "The New Stone Age"; "Profitable Science in Industry"; "Chemistry in the World's Work"; "Chemistry in the Home" and a series of six Nature and Science Readers for School Children (with E. M. Patch). He edited two volumes of chemistry in industry, 1924-25, prepared especially for use in connection with the American Chemical Society Prize Essay Contest. He was also author of numerous articles in scientific and lay publications. Each activity and interest of Dr. Howe's was investigated and worked with remarkable thoroughness. He became one of the best public speakers on chemistry in the United States. No one hearing him speak about the many wonders he brought up from his "magic grab bag" will soon forget the intensely interesting and lucid comments which accompanied each showing. His principal hobbies were gardening and photography and to each he gave his full energies. Thus at his homes in Washington and Woods Hole, he grew many prize winning flowers and planned gardens extensive and excellent. He had an enormous collection of colored transparencies and motion pictures which were remarkable for their variety. He practiced scientific farming at his farm in Richmond, Indiana.
Dr. Howe died from a heart ailment, at his Washington home on December 10, 1942. He was sixty years old and had been editor of Industrial and Engineering Chemistry for twenty-one years. His death brought to a close a remarkable life devoted to the service of the chemical profession. Under his editorship Industrial and Engineering Chemistry rose to the foremost publication in its field and exerted great influence during the years of rapid expansion of industrial chemistry. At the time of his death, Dr. Howe was survived by his wife, Mrs. May McCaren Howe, two daughters, Mrs. Oscar A. Provost, Mrs. Frank B. Clinton, five grandchildren, and a sister, Mrs. Jeanette Wilson.
American chemistry had lost an outstanding figure in the death of Harrison Estell Howe. His abilities and willingness to apply them for the good of mankind are attributes too seldom found.