Chopin in Music and Letters
Saturday, April 23, 2022
4:30 p.m.
Asbury First United Methodist Church, 1050 East Avenue, Rochester, NY 14607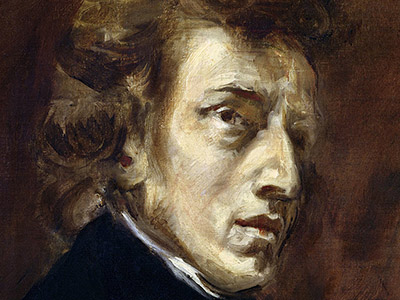 A concert to celebrate the 200th anniversary of Chopin's birth was planned to take place on April 23, 2020 but was cancelled because of coronavirus. We hope it will take place this April, two years later.
The concert will consist of performances of Chopin's music interspersed with readings of passages from his correspondence. The genesis of Chopin's compositions, his character, and his personality can be drawn from these writings. Chopin's music will be performed by pianists Ania Vu (University of Pennsylvania) and Maeve Berry (Eastman School of Music), soprano Paulina Swierczek (Eastman School of Music and Bard College), and cellists Blair Cheng and  Hannah Scarborough (Eastman School of Music). Passages of Chopin's letters will be read by Randall Stone, Director of the Skalny Center and Chair of the Department of Political Science.
The concert is co-sponsored by Consulate General of the Republic of Poland.
Mask are not required but strongly recommended.
---
Program
Introduction
Polonaise Brilliante C major Op. 3, 1829
Hanna Scarborough, cello; Maeve Berry, piano
December 1818—To his father on his name-day
November 1825—To Jan Białobłocki
Polonaise G minor Op. 69 No. 2, 1829
Ania Vu, piano
August 1829—To his family
Mazurka B-flat major Op. 7 No. 1, 1830
Ania Vu, piano
September 1831—From his notebook; written in Stuttgart after September 8
Etude C minor Op. 10 No. 12, 1831
Ania Vu, piano
December 1831—To Tytus Wojciechowski
Undated, 1832—To Dominik Dziewanowski
Ballade G minor Op. 23 No. 1, 1835
Ania Vu, piano
April 1836—Robert Schumann's review in the "Neue Zeitschrift fur Musik"
Mazurka A minor Op. 17 No. 4, 1833
Ania Vu, piano
October 1836—To his parents
April 1838—George Sand to Chopin
A Maiden Wish (Życzenie), words S. Witwicki, 1829
My Delight (Moja Pieszczotka), words A. Mickiewicz, 1837
Lithuanian Song (Piosnka Litewska, words S. Witwicki 1831 
Leaves are Falling Quickly (Leci Liscie z drzewa), words Wincenty Pol, 1836
Paulina Świerczek, soprano, Ania Vu, piano
November 1838—To Juljan Fontana in Paris
December 1838—To the same
Prelude E minor Op. 28 No. 4, 1836 – 1839
Ania Vu, piano
May 1848—To Adolf Gutman in Paris
Sonata for cello in G minor, Op. 65, 3rd movement, 1847
Hanna Scarborough, cello; Maeve Berry, piano
June 1849—To Ludwika Jedrzejewicz
Prelude C minor Op. 28 No. 20, 1839
Ania Vu, piano
The last words which Chopin wrote, in pencil, on a sheet of letter paper
Ballade G minor Op. 23, 1835
Ania Vu, piano