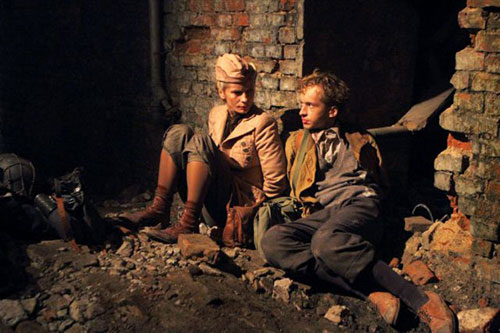 Totentanz. Scenes from the Warsaw Uprising
,
Taniec śmierci. Sceny z Powstania Warszawskiego
, 2012. 93 min.
Directed, written & produced by
Leszek Wosiewicz
Cinematography
Andrzej Ramlau PSC
Music by
Wojciech Waglewski
Principal cast
Magdalena Cielecka, Rafał Fudalej, Piotr Głowacki, Eryk Lubos Andrzej Mastalerz, Gosia Dobrowolska, Stanisława Celińska, Sonia Bohosiewicz
Produced by
Odysey Films Leszek Wosiewicz
Co-financed by
The Polish Film Institute
1944. Warsaw is in flames, destroyed by the Nazis during the uprising. When Warsaw's Old Town is reduced to rubble under German bombs, Marek, poet and dreamer, sets off alone through the labyrinth of underground cellars and tunnels for the city centre, where his father should be. He falls madly in love with Irena, a beautiful, blonde Volksdeutsch woman. She is trying to find her son, who was fighting in the uprising as a boy scout.
Following the screening: Question-and-answer session with Leszek Wosiewicz