2019-2020 Reni Celeste Memorial Lecture presents Lucy Mulroney
Lucy Mulrony Associate director for collections, research, and education at Yale University
Thursday, November 7, 2019
5 p.m.
Humanities Center Room D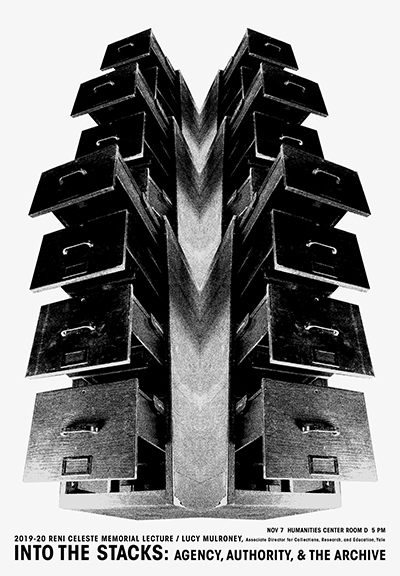 "Into the Stacks: Agency, Authority, and the Archive"
For the past eight years I have worked in an archive. My entry point was the reading room, as a scholar looking for traces and clues, materials that might provide insight. But I became, without knowing it, a participant observer. I got access to the stacks. In homage to Douglas Crimp's essay "The Museum's Old, the Library's New Subject," I will speak about my work in libraries and the paradoxes of the archive as simultaneously discourse, labor, and material. Encompassing a handful of stories about individuals who have been archived, the labor of the individuals who author and authorize the archive, and the lifeworld of the documents that constitute archival collections, my talk will suggest that the archive is not merely a vehicle through which we might understand the past, but is also, to borrow from anthropologist Ann Laura Stoler, a reworking of the inequities of the past in contemporary terms. A redemption and a violence.
Biography
Lucy Mulroney completed her PhD in the Visual and Cultural Studies Program at the University of Rochester in 2013. She is currently the Associate Director for Collections, Research, and Education at the Beinecke Rare Book and Manuscript Library at Yale University. Her writing has been published in The Believer, Counter-signals,Grey Room, and Criticism, among other places. Her 2018 book, Andy Warhol, Publisher, which was based on her dissertation, provides the first in-depth study of Warhol's career-long involvement in publishing. In addition to her book on Warhol, Lucy has curated exhibitions, including Strange Victories: Grove Press, 1951–1985;Black Utopias, co-curated with Joan Bryant; and The Archive in Motion. Most recently, Lucy oversaw the completion of the NEH-funded Marcel Breuer Digital Archive. She is currently working on a book of essays about the twentieth-century archive as a representational form.