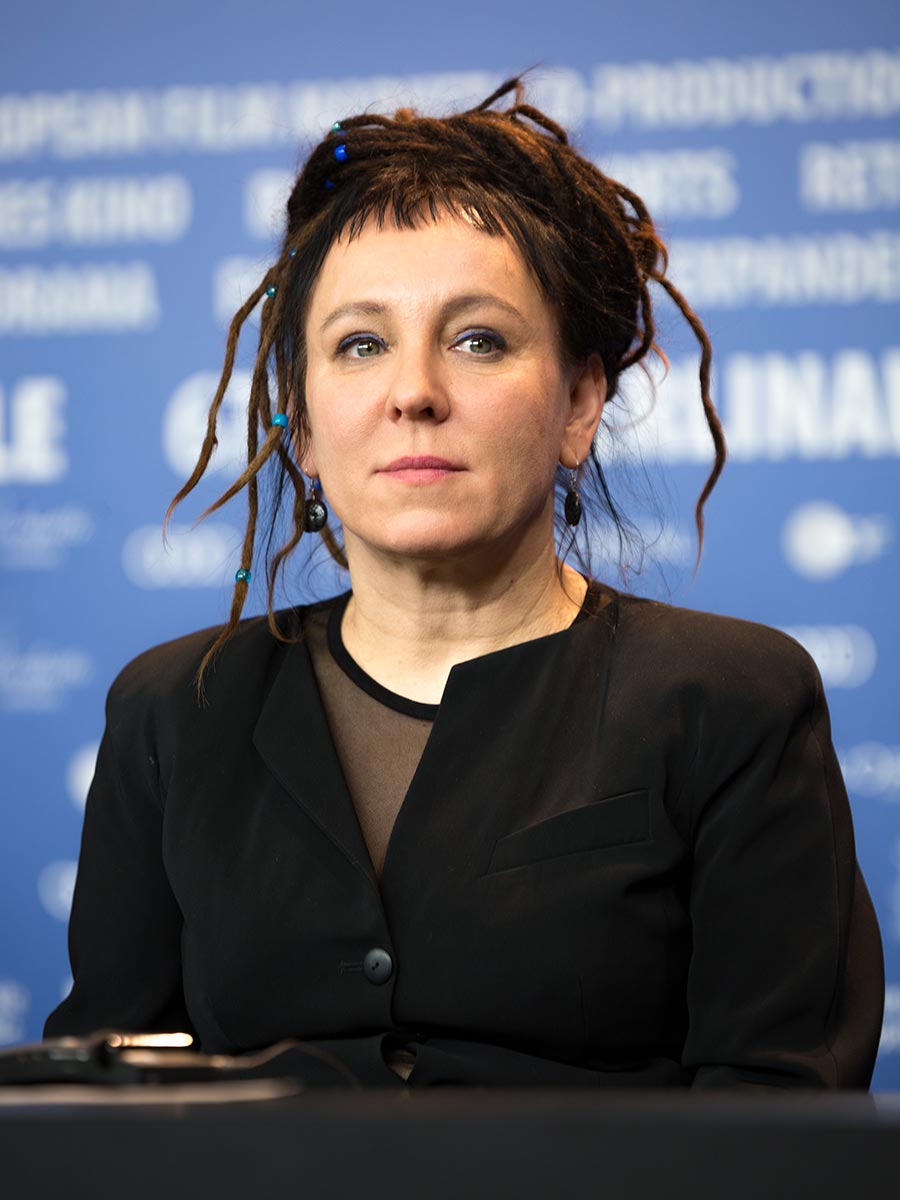 In October 2015 the Prawo i Sprawiedliwość (PiS; Law and Justice; in coalition with two minor parties) political party won the parliamentary elections, and it was evident long before the election results were officially confirmed that the changes coming with the new government would also affect the cultural landscape in Poland. It was obvious that culture would be an important area for the right-wing, conservative party, which came to power after 8 years of more liberal rule by Platforma Obywatelska (PO; Civic Platform) in coalition with Polskie Stronnictwo Ludowe (PSL, Polish People's Party). A preview of PiS cultural politics was given during the electoral campaign, and was confirmed after the new government was formed, when the Minister of Culture was named as one of the Vice Prime Ministers. This was the first time this had happened in Poland since 1989, as this title was traditionally reserved for the ministers of highest importance or strongest political influence.
What many expected to be a series of evolutionary steps, quickly became a process full of tensions and protests. The new Minister of Culture, Piotr Gliński, was considered by many a moderate politician in an otherwise radical political movement. He was a one-time PiS candidate for Prime Minister, a professor of social sciences, who in 2003 had helped to form the Polish Green Party (which makes his transformation into one of the most extremist voices in the PiS right-wing choir quite surprising).  He soon turned out to be one of the most active instigators of far-fetched reform projects in the new government. The reshaping of Polish culture was not meant to be an evolution, but a revolution.
Literature quickly became one of the most important battlegrounds (and victims) of the new culture war that started after PiS took power. The new government was formed in November 2015, and as soon as April 2016 Gliński started introducing changes in the Polish Book Institute, a government agency set up, among other things, to promote Polish literature and language abroad. The director of the Institute was dismissed, and the new leadership brought about shifts in the Book Institute's policy and a new, but not necessarily better, quality of the Institute's work. This can be illustrated by some decisions connected with Poland's participation in international publishing industry events.
In May 2016 the last major presentation of Polish literature prepared by the former administration took place during the BookExpo America in Chicago, where Poland was a guest of honor. Professional presentations and conference sessions were prepared, during which a broad scope of issues connected with the Polish book market were discussed (some of the materials presented can be found here: https://publishingperspectives.com/2016/05/working-poland-ditches-fixed-price-proposal/). It was clear the aim of the people preparing the Polish pavilion was to give American readers and publishing market professionals as broad a spectrum of the Polish publishing and literary scene as possible. The first event, "Discovering Poland," brought together American publishers (including Rochester's own Chad W. Post from Open Letter Books), translators of Polish literature (Bill Johnston from Indiana University of Bloomington, awarded the Found in Translation prize) and Polish writers, some of whom where highly critical towards the new Polish government and the PiS party in general (including Dorota Masłowska and Magdalena Tulli). Those who visited the BookExpo could also see an exhibition of works by Polish illustrators of children books (including Aleksandra and Daniel Mizieliński, authors of a bestselling album "Maps"), and dive into the world of the Witcher, a protagonist of Andrzej Sapkowski's books, a hit series of video games, and forthcoming Netflix series. The Polish presence in Chicago was widely treated as a very successful presentation of what was described as a very young, but vibrant and diverse book market .
The next few months saw a series of resignations and dismissals of Book Institute management , and declarations from the new director that in promoting Polish literature abroad he would like to focus more on those parts of the Polish publishing scene that so far were being omitted in various international promotional projects, meaning religious, historical and philosophical books presenting a world view very close to that of the ruling party . Those intentions were realized in November 2016, during a Market Focus meeting organized by the British Council in London, considered an introduction to the London Book Fair, where Poland was to be the guest of honor in 2017. Presentations were made by Krzyszof Koehler, the new vice-director of the Institute, and Andrzej Zysk, director of one of the major publishing houses in Poland. Zysk tried to present a broad scope of Polish literary agencies and publishing houses, and in his presentation mentioned various Polish writers well-known in the English-speaking world, including classic sci-fi writer Stanisław Lem, non-fiction writer Ryszard Kapuściński, but also Andrzej Sapkowski, Sławomir Mrożek and Witold Gombrowicz . But it was Koehler's presentation that raised a lot of eyebrows in Poland. Presented in a not-too-good English, it started with a very strong statement: the British have a moral obligation to publish Polish literature, as some acts of violence against Poles took place in the UK, the Poles are one of the biggest foreign communities there, and "you must better understand your neighbours". The attention of Polish publishing industry experts and readers focused especially on one slide from Koehler's presentation, on which Koehler:
gave wrong names or last names of a bunch of Polish authors ("T. Czarnyszewicz" instead of "F. Czarnyszewicz", "Miłoszewicz" instead of "Miłoszewski")
misspelled some English words ("si-fi", "fantazy")
mixed up writers already known to the English-speaking readers with some that are not even known to the Polish readers (while Dehnel, Tokarczuk – who was the Skalny Center's guest in 2018 – and Myśliwski are undoubtedly among the most prolific writers in contemporary Poland, Czarnyszewicz's novel Nadberezyńcy is appreciated by literary scholars, but unknown to a wider public)
presented works of Andrzej Nowak and Dariusz Karłowicz, active supporters of the PiS government, as the most eminent representatives of Polish essay writers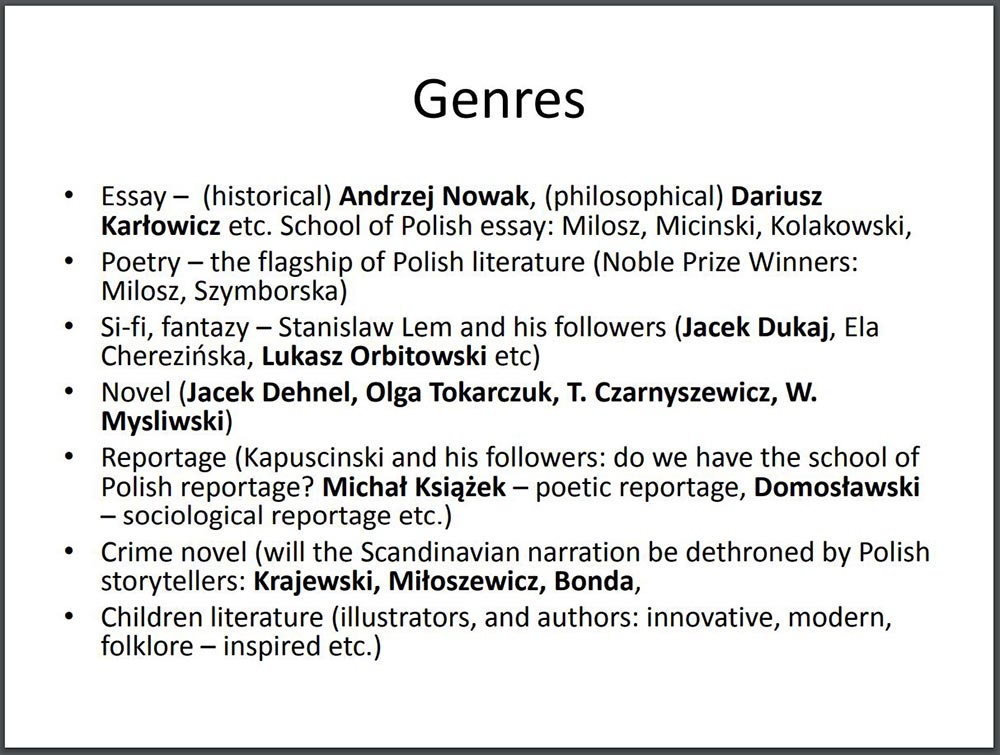 While the Book Institute and Koehler himself responded to the criticism that followed, explaining that the presentation was not intended for a wider audience , and that this criticism is part of a hateful campaign against the new policy of the Institute, it would be difficult to treat it as a professional way of marketing Polish literature to foreign publishers. But what seems to be more important is the way the Book Institute started to try to shift foreign perceptions of Polish literature. As it turned out, the November 2016 meeting in London, introducing writers supporting the current government in Poland as equal to the classics of Polish – and world – literature, like Miłosz and Szymborska, was just a prelude to further steps.
During the London Book Fair itself, a large part of the Polish stand was dedicated to the works of Polish historians (but only those confirming historical narratives close to the nationalistic view of Polish history), right-wing publicists (like Bronisław Wildstein) and important figures of the Catholic Church (including Pope John Paul II, named Karol Wojtyła before he became Pope, and cardinal Stefan Wyszyński, who played an important role in anti-communist resistance).
A few months later, the Book Institute wanted to publish a book that would be used to promote Polish culture and contemporary Poland during various international events. In November 2018, Aleksandra Cieślak, who was supposed to write and illustrate this book, published a list of dos and don'ts that she had received from Book Institute staff. She had been ordered to remove any information regarding Donald Tusk (former Prime Minister and leader of PO, who later became the President of the European Council, one of the most important offices in the European Union), Szczepan Twardoch (a writer from Silesia, highly critical towards the PiS government), Wioletta Grzegorzewska (whose book "Guguły", published as "Swallowing Mercury" under the pen name Wioletta Greg in English was nominated to the Man Booker International prize in 2017) and Anja Rubik (a top model from Poland, known for her support for the LGBT+ movement and access to sexual education in schools) .
These events might seem relatively insignificant in the wider plan of politics, but they show how the PiS government tries to change the landscape of perceptions of Polish literature, culture and history. While the centrist-liberal PO government, in general, was not interested in using culture as a political tool and understood its role rather as a custodian of Polish culture than an entity entitled to shape it , PiS found a way to communicate with society through a certain narrative regarding Polish history and culture. In this narrative, Poland is a Christian (Catholic) country that has defended (and keeps defending) traditional European values from various forces trying to destroy them, has paid a high price for doing so, deserves gratitude from the international community and should be praised rather than criticized. Even if some mistakes occurred, and even if some members of the Polish nation committed some wrongs, these are clearly in the past; they do not form a mainstream trend in the Polish community; and if they are discussed, they should be presented in a proper context. Probably the most important part of this narrative is the stance of Poles towards Jews. Since the current Polish government came to power, many instances of discussing those Poles who collaborated with the Nazis during the Holocaust escalated into major diplomatic clashes and crises, especially with Israel, but also with the United States.  This narrative does not allow much space for critical points of view, and tries to eliminate critical voices indicating that not everything in Polish history is worth praising, and there are some darker chapters there, too.
In order to make this narrative a prevailing one, the PiS government has taken a lot of steps, many of them in the field of culture. Since 2015, it started introducing stricter control over cultural institutions throughout the country (from government agencies to public theatres and museums), dismissing directors appointed previously and introducing new rules for selecting new management that would strengthen the government's voice. A lot of new subsidies and grant programs were founded that are clearly targeted to publishers and other institutions promoting "Christian" (Catholic), "national" and "traditional" values.
This also meant important changes in the presence of literature in schools and in the public sphere in general. A reform of the school system and curriculum started in 2017, which included changes in the set of obligatory reading, from elementary to high schools, and the changes here were drastic. The majority of post-1989 writers were removed from the reading lists, along with writers critical towards Polish culture and Polish "national character" (such as Witold Gombrowicz ), while the new additions included a lot of 19th-century works focusing on the suffering of the Polish nation under the partitions, as well as some writers and poets sympathetic to the current government (such as Jarosław Marek Rymkiewicz ).
This instrumental use of literature can be observed in other spheres as well. One example comes from the 2018 edition of National Reading, a program that promotes the classics of Polish literature by presenting a given work each year during various events (including public readings with famous actors and even the Presidential couple). In 2018, Stefan Żeromski's "Przedwiośnie" (Coming Spring) was chosen as the main work to be read, but the mid-1920s text, containing a lot of political discussion of the proper shape and structure of the renewed Polish republic, was highly redacted and condensed, and many views sympathetic towards what is treated as left-wing opinion in Poland were removed. Another – and probably even worse – example comes from the Institute of National Remembrance, a government-financed institution specializing in investigating the crimes conducted both by the Nazis and Communists in Poland. A film commemorating the Warsaw Ghetto Uprising of 1943, published on their Twitter account, starts with a famous quote from Zofia Nałkowska's book "Medaliony" (Medallions) : "People doomed people to this fate." Not wanting to give the public any doubts as to who should we have in mind when watching the movie, and who should be considered responsible for the Holocaust, the first frame of the movie shows a slightly changed quote: "People (Germans) doomed people to this fate". This way, a literary work was included in various attempts by the PiS government (and other right-wing and nationalistic parties) to indicate that the Holocaust is the responsibility not of vague, indeterminate "Nazis," but Germans, and that the Poles had nothing to do with it.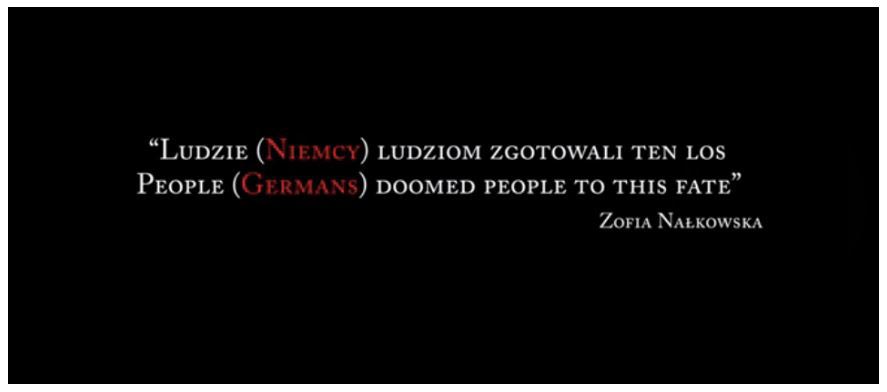 After four years of the PiS government's rule, it is not yet clear whether it will be successful in using literature and culture as a tool in current politics and in reshaping Polish cultural and intellectual life. So far, waging cultural wars has already brought some detrimental effects in international relations (with Israel, Germany, the United States and the bodies of the European Union), but it seems to play an important role in internal affairs and in consolidating voters that identify with traditional, national values rather than with liberal openness and cosmopolitanism. Therefore, it should be expected that the coming months, leading to parliamentary elections in the Fall, will bring more battles in which culture might play a part it would not adopt for itself.
Footnotes
---
Dr. Jakub Czernik was visiting professor in the Skalny Center in Falll 2018. He is assistant professor at the Department of Comparative Literature, Faculty of Polish Studies, Jagiellonian University, Kraków, Poland.