"Music of the World"
Feb. 13, 2014, 7 pm, Hatch Recital Hall, ESM
Performers: Krzysztof Meisinger, guitar and Anna Maria Staśkiewicz, violin

Manuel de Falla - "Canciones Populares Espagnolas"
Bela Bartok - "Romanian Folk Danses"
Ricardo Lopes Garcia - Paixao "Bachiana"
Marek Pasieczny - "Polish Folk Melodies"

Intermission

Astor Piazzolla - "Tango Suite"
Astor Piazzolla - "Histoire du tango"

Watch Live Interview with Anna Maria Staśkiewicz and Krzysztof Meisinger on Fox Rochester.

Program "Music of the World" consists of exceptional works inspired by music from around the world, among others from Poland (M. Pasieczny – Polish Folk Melodies), Bulgaria (A.Ourkouzounov – Bulgarian Rock), and Spain (M. de Falla – Canciones Populares Espagnolas).

The duo Anna Maria Staśkiewcz and Krzysztof Meisinger was formed in 2011. Since then, the duo has been performing both as a duo and with orchestras, including the world premiere of Concerto Grosso No.2 by Dimitri Varelas with Capella Bydgostiensis under the direction of Jose Maria Florencio.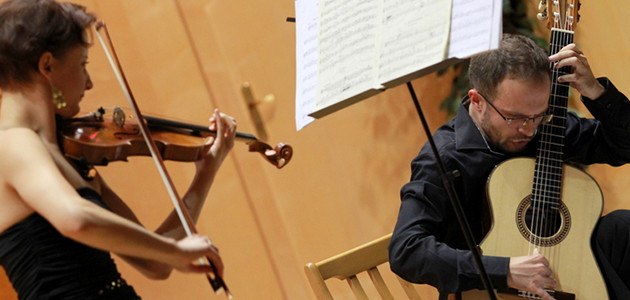 Krzysztof Meisinger
is a Polish musician who has been hailed internationally as one of the most fascinating and charismatic young classical guitar players. Born in 1984, Mr. Meisinger is a prizewinner of several national and international competitions. As a soloist, he has performed in the USA, Germany, France, England, Serbia, Austria, Spain, Greece, Latvia, Poland, and Ukraine, with such ensembles as the Academy of St Martin in the Fields, the Amadeus Polish Radio Chamber Orchestra, and the Philharmonia Quartet Berlin. Krzysztof Meisinger has worked with nationally and internationally acclaimed musicians such as Marcelo Nisinman (bandoneon), Daniel Stabrawa (violin), Anna Maria Staśkiewcz (violin), and Iwona Hossa (soprano), and has inspired a number of composers to write new guitar compositions.
Anna Maria Staśkiewicz
, one of the greatest talents in Polish violin playing, is widely recognized for her charismatic and radiant performing style, her brilliant musicality, imagination and instrumental values. She has been awarded many prizes in international competitions, and has been very active artistically. Anna Maria Staśkiewicz has performed in recitals and with orchestras worldwide, including Polish Radio National Symphonic Orchestra in Katowice, National Symphonic Orchestra in Warsaw, Sinfonia Varsovia Orchestra, "Amadeus" Polish Radio Chamber Orchestra, "Leopoldinum" Chamber Orchestra, Toruń Chamber Orchestra, Sinfonietta Cracovia, Sinfonia Viva, The Presidential Symphony Orchestra in Ankara, Gottingen Symphonic Orchestra (Germany), Chamber Orchestra in Zurich, Sinfonica Municipal in SaoPaulo, and others. As a soloist, she played under the baton of many distinguished conductors: Mirosław Jacek Błaszczyk, Łukasz Borowicz, Massimiliano Caldi, Agnieszka Duczmal, José Maria Florencio, Robert Kabara,Vladimir Kiradjiev, Jerzy Maksymiuk, Wojciech Michniewski, Marek Moś, Maxim Vengerov, and others. Anna Maria Staśkiewicz is an active chamber player who has already cooperated with Jose Gallardo, Robert Kabara, Marcelo Nisinman, Olga Pasiecznik, Ewa Poblocka, Marcin Sikorski. Her repertoire includes virtuosic pieces and vast range of solo violin literature, as well as chamber music works.