Meet the Artists:

Strings and Hammers
are a twist on the traditional strings and piano trio. Founded by Ko, Virtanen, and Shulman, they present the combination of piano, violin, and double bass.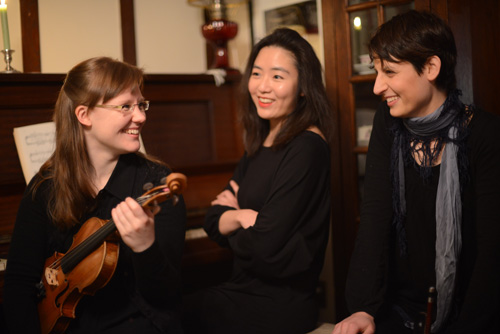 Sini Virtanen
started to play the violin at the age of five in the Käpylä Music Institute (Helsinki, Finland) with Mrs. Marja Olamaa. From 1999 she studied in Sibelius Academy with Professor Päivyt Meller, first in the youth department, completing her bachelor degree in 2007. In 2009 she graduated from Eastman School of Music with her master's degree, studying with Professor Mikhail Kopelman. She was also awarded the Performer's Certificate. Currently Ms. Virtanen is pursuing a doctoral degree at Eastman, continuing to study with Professor Kopelman.
Ms. Virtanen has won several prizes in both national and international competitions, such as Second Prize in the International Violin Competiton in Bled, Slovenia in 2003 and Second Prize in the Concerto Competition of Summit Music Festival, New York, in 2005 which included a recital in the following year's festival.
Chamber music has been an important part of Ms. Virtanen's studies since 2001, when the WolfGang String Quartet (first known as Melartin -quartet) was founded. The quartet has performed in the Kuhmo chamber music festival in 2003 and on the same connection they made the first recording of two string quartets by a Finnish composer Erkki Melartin. In November 2004 WolfGang quartet won the Second Prize in the Savonlinna Chamber Music Competition in Finland, and was also awarded a Special Prize for their interpretation of the Bartók's string quartet nr. 2. The quartet has performed in several Finnish music festivals but also in Germany, Ireland and Japan.
Sini Virtanen has served as the concertmistress of The Helsinki Strings and performed as the soloist with the orchestra. In addition she has appeared as a soloist with the Kauniainen Symphony and Kuopio and Jyväskylä Philharmonia.
Sini Virtanen plays a Niccolo Gagliano instrument (1735), kindly lent by the Finnish Cultural Foundation.
Pianist
Eunmi Ko
(www.eunmiko.com) was born and raised in Seoul, Korea. Ko has performed throughout North America, Asia, and Oceania. In 2009, for the first time as a student, she programmed two sets of Chopin Etudes in a single recital program at the Eastman School of Music. The same year and following year, her complete Chopin etudes project captivated audiences in the upstate New York, Boston, and South Carolina in the U.S., as well as in Christchurch, New Zealand.
Ko has acquired significant experience as a collaborative pianist in the past few years. Since 2005, she has served as an accompanist and collaborative pianist for Eastman School of Music, Eastman Community Music School, Finger Lakes Community College, Nazareth College, Hochstein School of Music and Dance, The Quartet Program, and Chautauqua Music.
Teaching has been an important part of her career. Ko held a Teaching Assistantship from 2006 to 2009 in the studio of Professor Rebecca Penneys at Eastman. Since 2008, she serves as a piano instructor and accompanist at Finger Lakes Community College, Canandaigua, NY, and Eastman Community Music School. In summer 2012 she served as a piano faculty member at Performing Arts Institute, PA.
Ko studied for her bachelor of music with Ick Choo Moon at Seoul National University from 2000 to 2003, and she studied with Rebecca Penneys during her graduate studies at the Eastman School of Music. She received a Master of Music degree and Doctor of Musical Arts degree from Eastman.
Double Bass player
Julia Shulman
has given concerts as a soloist, chamber musician, and an orchestra player.
As a resident of Israel for six years, Julia performed with the Jerusalem Broadcast Symphony Orchestra and the Ra'anana Symphony. She served as principal bassist with the Cape Ann Symphony, and has performed with other Massachusetts-area orchestras.
She has participated in several contemporary ensembles and projects, including the Slee Sinfonieta, CUBE and the Quey Percussion Duo. In 2010 she traveled to the prestigious Cervantes Festival in Mexico with the Eastman Broadband.
Her special interest in research as solo/chamber performer has been double bass music written by Hungarian composers. Until now, these pieces have only rarely been performed or reached publication. Julia's goal is to widen the standard double bass repertoire with these valuable pieces.
She has taught double bass as a teaching assistant at the Eastman School of Music and has been a summer faculty member at the Performing Arts Institute at Wyoming Seminary since 2010.
Currently working on her DMA at the Eastman School of Music, Julia holds a Bachelor of Music degree from the Rubin Academy in Jerusalem and a Master of Music degree from the Longy School of Music. Her main teachers were István Lukácsházi, Michael Klinghoffer, Pascale Delache-Feldman and James VanDemark.