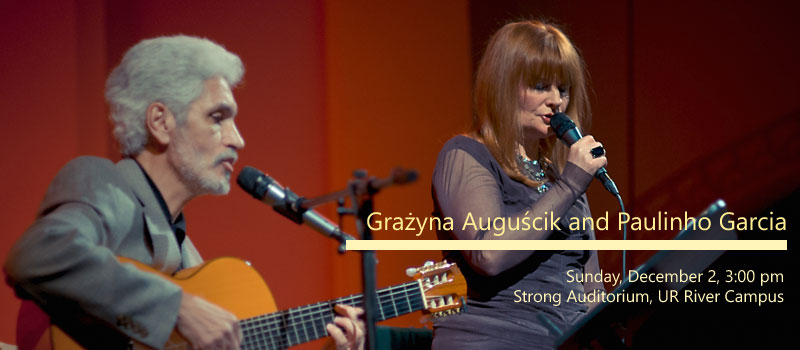 Grażyna Auguścik and Paulinho Garcia
Sunday, December 2, 3:00 pm
Born in Poland, now based in Chicago, jazz vocalist extraordinaire Grażyna Auguścik will make her only appearance in Rochester on Sunday, Dec. 2. She'll perform with Paulinho Garcia, voice and guitar, her musical partner for 14 years.
Grażyna Auguścik

Singer, composer, arranger, and producer Grażyna Auguścik has won the praise and admiration of music critics, jazz enthusiasts and even non-jazz audiences with a singular voice that speaks a universal language. She is one of the most intriguing contemporary vocalists on today's world jazz scene. Her elusive style challenges traditional definitions of jazz and shows a vocalist and musician without boundaries. Her unorthodox approach to rewriting classic works pays tribute to their authors and at the same time is an adventure into uncharted territory. Her original music gives a fresh taste of uncanny flavor.

She began her professional music career in Europe, and then completed her studies at the prestigious Berklee College of Music in Boston in 1992. Since then she has become a prolific collaborator shearing the stage with such jazz notables as Michael and Randy Brecker, Jim Hall, Toots Thielemans, John Medeski, Paul Wertico, Kurt Rosenwinkel, Robert Irving III, Michal Urbaniak, Terry Callier, Patricia Barber, John McLean, Jarek Bester, and many others. Grazyna has recorded, produced and distributed 17 albums, ten of which were under her own record label, GMA Records, and has appeared as a guest on as many projects.


Her album Pastels was chosen one of the best of 1998 by National Public Radio listeners. Her 2002 release River placed her as one of the hottest young jazz talents in the country. In 2003 Grażyna received Twirlie Nomination for Top 15 FEMALE VOCALISTS and was nominated for Best Female Vocalist of 2002 by 22nd Annual Chicago Music Awards. She was named Best Jazz Vocalist of 2002, 2003, 2004, and 2006 by a prestigious European Jazz Forum Magazine. In 2002 Fujitsu Concord Jazz Festival awarded her with the TOP VOCALIST title, and the album Homage - Three for Brazil recorded for Pony Canyon Records in Japan was on a TOP 20 JAZZ ALBUMS list in Asia. Her own release Past Forward, featuring a remarkably talented accordion player Jarek Bester, once again resists easy classification because of its musical eclecticism, but embraces jazz in all its contemporary potential, in the pulsating, exhilarating, eastern musical origins that lead to the past and at the same time give an uncanny impression of wholeness.

"Auguscik may be on the brink of innovation," says a Chicago Tribune critics review. Find out why the LA Times says "Grazyna Auguscik is doing important work in advancing the potential for imaginative jazz singing. She is a singer to be watched."

The Grażyna Auguścik Orkestar Universale Project, presented at Millennium Park in Chicago in 2006, received a standing ovation, reaffirming that music can communicate across boundaries of language. Howard Reich of the Chicago Tribune said about her performance: "Auguścik and her ensemble sound like nothing else you ever heard; they are out of this world. This must-see performer is one of the best voices to be heard today." Her latest project and concert "Chopin World Sound" at Millennium Park in Chicago on July 25, 2010 with 14 musicians on stage, gathered over 10,000 people in the audience and was chosen one of the 10 most important performances during last three decades in Chicago area, next to Miles Davis, Ella Fitzgerald, Wynton Marsalis Septet, Frank Sinatra, Marcus Roberts, Tropicana Orchestra, Danilo Perez, Oscar Brown Jr., and Igor Butman. In a meantime Ms. Auguscik collaboration as an assistant producer for Patricia's Barber two latest Blue Note recording projects brings another worldwide highly acclaimed albums.

Right now her two European releases "Personal Selection" and "The Beatles Nova" just came out, and her new upcoming one with great expectations "The Man Behind The Sun" is just around the corner.

"She's a music machine."
– C. Loudon, Jazz Times
"... stunning use of her lithe, mobile voice ... she is doing important work in advancing the potential for imaginative jazz singing... result is a singer to be watched."
– Don Heckman, LA Times
"Grazyna Auguscik is emerging as an individual voice in a world of sound-alike singers ... Auguscik approaches the art of jazz singing with fervor and intensity. She treats even the most well worn fare with a spirit of adventure."
– Howard Reich, Chicago Tribune
"Her name is Grazyna Auguscik and she is one of the hottest jazz talents in the country."
– American Jazz Scene
"Jazz Innovator Singer Grazyna Auguscik a fresh voice on a jazz scene ... powerful statements."
– Mark Guarino, Daily Herald
"One of Chicago's hidden treasures, singer Grazyna Auguscik is a jazz-rooted, genre- blurring provocateur."
– Michael Wojcik, Illinois Entertainment
"... she conjures otherworldly images of Yma Sumac sweating to an Esquivel beat."
– C. Loudon, Jazz Times
Paulinho Garcia
Born in Belo Horizonte (capital of Minas Gerais, Brazil) Paulinho began his musical career at the age of nine as a singer in a Sunday children's program in his city's principal radio station, Radio Inconfidencia. In his teens, he performed as a house musician in all musical programs of the Radio network, Guarany--TV Itacolomy. He led his own band, Os Agitadores, and with them recorded his first two albums.
Until his arrival in the U.S. in 1979, Paulinho composed, arranged, produced, and performed jingles for HP Studios. Four of his commercials received national awards. Having moved to Chicago, he performed and recorded two albums with the band Made in Brazil. In 1991 he founded his own band, Jazzmineiro, whose eponymous 1996 CD received excellent reviews in the Chicago Tribune, Jazziz magazine, the Brazilian Music Review, and The Brazilians. Paulinho was the recipient of the "Best jazz entertainer" award for the year 2001 by the Chicago Music Awards. His new recording "Homage", released in Tokyo on September 2002, was chosen as the best vocal CD in Japan for 2002 and was among the best 20 overall.
Paulinho has performed in many cities throughout the U.S. and abroad, touring Japan for six months with Made in Brazil. In 2000 and 2001 he toured Poland, Prague andBratislava with singer Grazyna Auguscik. Paulinho also performed with saxophonist Greg Fishman (his partner in Two for Brazil). In 2001 they performed at the North Seajazz festival in the Netherlands, the Singapore jazz festival and at the Holland American jazz cruise. In 2002 they performed in Hong Kong and Bangkok and most recently at the Fujitsu Concord jazz festival throughout various cities in Japan. It was then that Paulinho added Polish singer Grazyna Auguscik and named his new trio Three for Brazil. In 2003 Two for Brazil played Joe Siegel's jazz cruise "jazz party at sea" (October 26 thru November 2). His line up for 2004 included a tour of Poland in March, Bahamas in May, as well as performing at one of Japan's largest jazz festivals, Jazz Elite, with Three for Brazil (June 8th thru 21st), a second "jazz party at sea" cruise (October 23 thru 30th) and two TV concerts in the Netherlands in November. In 2005, In addition to many festivals throughout the USA, Paulinho performed in various cities in Poland, The Ukraine and Prague in April, The Singapore jazz festival in July, Joe Siegel's jazz cruise to Alaska in September, the Jazz cruise of the Bahamas in October, and the Bangkok jazz festival in early February 2006. Paulinho just released two new CDs: a new solo CD (Tempo Feliz) and a CD of well known movie songs (Two forBrazil goes to the movies) in an inviting Brazilian style with his duo Two for Brazil.
About Grażyna & Paulinho:
"Two voices meant for each other"
- Jazz Times
"Musical chemistry that shouldn't be missed."
- K Carson
Strong Auditorium, UR River Campus
Co-sponsored by the University of Rochester Department of Music.