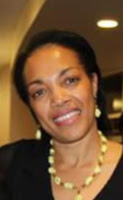 Ghislaine Radegonde-Eison
Adjunct Instructor of French
Program Manager, Frederick Douglass Institute for African and African-American Studies
Ed. D, University of Rochester, 2017
311A Morey Hall
(585) 275-9161
ghislaineradegonde-eison@rochester.edu
Office Hours: Spring 2021; by appointment only.
---
Biography
Her dissertation on "The Construction of Resilience by African American Undergraduate Females within the Context of Higher Education" examines the nature of socialization and gender norms in higher education contexts and focuses on the salient configurations of resilience and well-being of a specific ethnic group. She uses tenets of both Black feminism and race and gender intersectionality not only to understand how gender and racial categorizations might affect resilience but also to address any decrease in well-being that can potentially have a long-term lingering effect on African-American females' identity.

She has studied and/or lived in France, Madagascar, Martinique, and French Guiana.
Courses Offered (subject to change)
FR 101:  Elementary French I – Recitation (Fall)
FR 102:  Elementary French II – Recitation (Spring)