Overview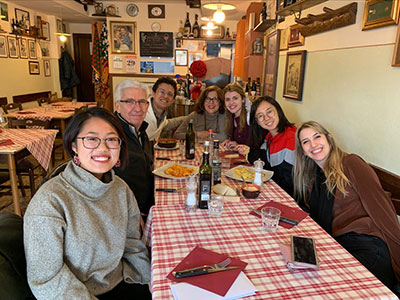 Experience Italy and the Tuscany Region through our semester-long program based in Arezzo, one of the most attractive cities in Tuscany. Rich in history and intellectual and artistic tradition, Arezzo is a dynamic and welcoming city in which your encounter with the Italian language and culture will be authentic, fulfilling, and unforgettable. Components of the program include:
Venice Creative Writing Tutorial—The 2024 program will begin in the magnificent city of Venice. This unit, led by Professor Joanna Scott, will give students the opportunity to study the art of writing in one of the most culturally significant cities in the world. Through concentrated work over two weeks students will enrich their writing with explorations of the art and literature inspired by Venice, a city that has been a favorite subject for poets, novelists, filmmakers, and playwrights for centuries.
The Grand Tour—A 12-day study tour of some of most spectacular archaeological sites of Roman and Greek life in southern Italy. Rome, Ostia Antica, Pompeii, Herculaneum, Paestum, and Naples are among our destinations under the masterly guidance of Professor Renato Perucchio.
Narrative Documentary Filmmaking—Students learn how documentary filmmaking can be used as a tool in intercultural communication with hands-on experience in filmmaking. Students will make their own films as they see and understand Italy and its culture in a unique way.
Culture through Community Based Learning—Through a multitude of opportunities in the local community and beyond, students partake in an on-going discussion on cultural differences and awarenesslearning how to travel and visit cultural centers as an educated traveler while enriching each individual journey.
Elementary or Accelerated Italian—Italian language is not a prerequisite to participate in the program, but essential for living in full life in Italy. Through a communicative approach, elementary Italian students will learn fundamental vocabulary and language to be able to begin to have short conversations and become capable of doing basic tasks like ordering from a menu, buying train tickets, bargaining at a market, and talking about themselves. Advanced Italian students will be building on their foundation and expanding it through cultural exchange with local Italian students and group projects that will require interviews and presenting material.