Humanities for Life Internship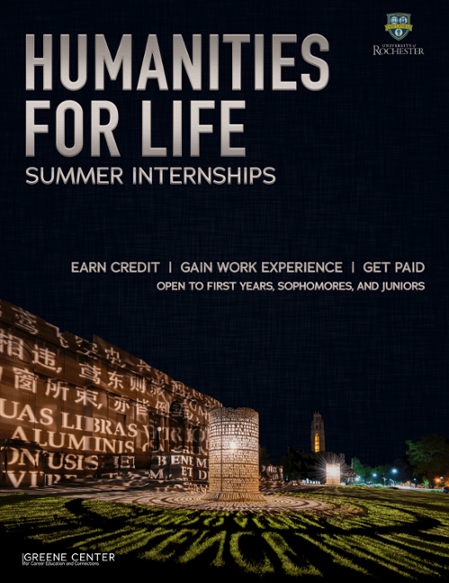 The Humanities for Life (HFL) Summer Internship Program, funded by a grant from the Andrew W. Mellon Foundation, connects students interested in the arts and humanities to paid internship opportunities with non-profit arts and cultural organizations in the Rochester area. These internships help students access traditionally unpaid opportunities that highlight the value of the humanities in the workplace while building critical skills for post-graduation success.
Program Eligibility
First-year, sophomore and junior students in Arts, Sciences & Engineering at the University of Rochester are eligible to apply, including international students and Dual Degree Eastman Students.
Program Benefits
In addition to securing a full-time summer internship, accepted students join a community of current and past HFL interns, develop a network with all participating organizations, and participate in educational and social programming supported by the Greene Center for Career Education and Connections.
In addition, selected HFL interns receive:
A stipend distributed across the course of the summer months
Internship credit with transcript notation
A dedicated career advisor
Participating Organizations
Past participating organizations include the George Eastman Museum, Hochstein School of Music, Memorial Art Gallery, Open Letter Books, Rochester Philharmonic Orchestra, Strong National Museum of Play, Visual Studies Workshop, Writers and Books, Girls Rock! Rochester, 540 WMain, Joseph Avenue and Cultural Alliance, Rochester Museum and Science Center, Genesee Country Village and Museum, and the University of Rochester Institute for the Performing Arts.
See the Humanities for Life Summer Internship page on Handshake for a list of currently participating organizations.
Application Details
Details regarding the application process, timeline and specific internship postings can be found on Handshake. As the application process is competitive, students are highly encouraged to work with a career advisor to discuss their interest and application materials. Students can contact Tonya Dickerson for assistance.
Previous Interns
Visit the internships website to read about past interns and the connections they made between their projects, the Rochester community, and the humanities.
Blog Posts
Three Life Lessons from Humanities for Life