Dustin Trail, Early Earth and Experimental Geochemistry Lab
Laboratories and other research tools
Much of our foundational work happens here in the University of Rochester laboratories. Our experimental geochemistry laboratory is optimized to support a wide range of research topics, while remaining nimble enough to forge into entirely new areas of research. We started this process by building 2 end-loaded piston cylinders by working with the machine shop at the University of Rochester. I encourage those working in my lab to explore new methods of experimental design and execution, which could include the construction of new experimental equipment.

This image above represents part of the experimental geochemistry laboratory. To the left is a one atmosphere muffle furnace, and further right is an interchangeable horizontal/vertical tube furnace with gas mixing capabilities. To the far right is an end-loaded piston cylinder device (the blue press). Another piston cylinder is also visible in the image (back center; the yellow press). These devices are designed to achieve temperatures as high as 2000 oC and pressures of up to 40 kbar. Sample pressure is determined with a high precision 8" Heise gauge, and temperature is regulated with Eurotherm NanoDac controllers.  Our center room (image below) hosts lathes, drill presses, and an arc welder, which we use for prototyping, and for making experimental parts.

Prototyping and designing parts is a major part of our process; each experimental project is different and typically requires its own design process in order to be successful. Once we do find a design that works for the intended purpose, we have a great machine shop on campus that is able to assist us with the manufacture of a wide range of parts.
The final room of our experimental lab (below; left image) is used for microscope work, polishing samples, and loading capsules. The small image (below; right image), shows an example of a few 2 mm platinum capsules, and a schematic the cell design used for our piston cylinder experiments.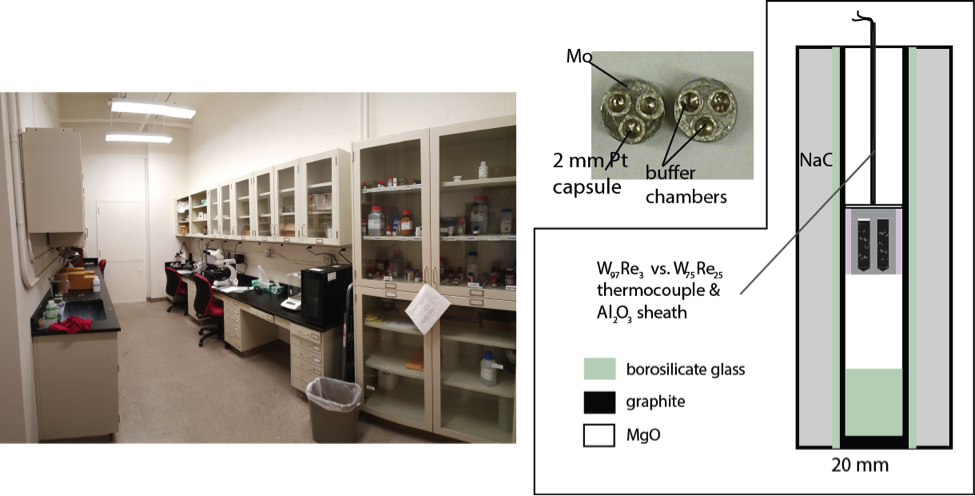 A separate laboratory hosts a laser ablation inductively coupled plasma mass spectrometer (LA-ICP-MS). The mass spectrometer shown below is an Agilent 7900 quadrupole (installed in 2014). The setup includes interchangeable Ni and Pt cones, "Ultra High Matrix Introduction" capabilities (e.g., for direct analysis of seawater without dilution steps), standard torches and nebulizers, and a hydrofluoric acid-resistant torch+PFA nebulizer. The ICP-MS also includes a collision cell. This cell utilizes He to separate out isobaric oxide interferences; tests with this technology have achieved CeO/Ce ratios of ~0.15% routinely. The LA is a Photon Machines G2 with a Helix 2 sample cell and selectable spot sizes that range from 1 to 155 μm. The G2 is also equipped with an upper and lower polarizer (for cross-polarized light images) and an automated stage for easy creation of sample mosaics (see Trail et al 2016 for an example of a trace element map created with our setup).

In some cases, the analytical facilities we need to address our research questions pull us out of Rochester to national laboratories. We spend time out at UCLA using the CAMECA ims 1270/1290. We also travel to the Advanced Photon Source Synchrotron, which is part of Argonne National Labs. In other cases, our "research "tools" start with basic field equipment. Along with colleagues, we have visited a range of localities throughout the world; a major goal of our field work involves the collection of remnant material from the earliest stages of our planet's history..

Above, is a panoramic image from our trip to the Acasta Gneiss, located about 300 km north of Yellowknife, Canada. This photo was taken looking north toward the northern peninsula of the island where ~4.0 Ga rocks were first discovered. The rocks are composed of interleaved gabbroic, tonalitic and granitic gneisses, and the folds are Paleoproterozoic in age. There are four geologists in this image for scale. See if you can find them in the high resolution image (280 megapixels).