Spring 2021 End of Term Showing
Wednesday, April 28, 2021
7:30 p.m.
Wilson Commons Tent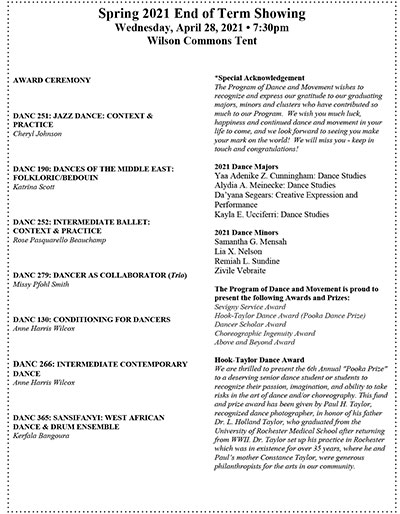 ---
AWARDS CEREMONY
DANC 251: JAZZ DANCE: CONTEXT AND PRACTICE
Cheryl Johnson
DANC 190: DANCES OF THE MIDDLE EAST: FOLKLORIC/BEDOUIN
Katrina Scott
DANC 252: INTERMEDIATE BALLET: CONTEXT AND PRACTICE
Rose Pasquarello Beauchamp
DANC 279: DANCER AS COLLABORATOR (Trio)
Missy Pfohl Smith
DANC 130: CONDITIONING FOR DANCERS
Anne Harris Wilcox
DANC 266: INTERMEDIATE CONTEMPORARY DANCE
Anne Harris Wilcox
DANC 365: SANSIFANYI: WEST AFRICAN DANCE AND DRUM ENSEMBLE
Kerfala Bangoura
Special Acknowledgement
The Program of Dance and Movement wishes to recognize and express our gratitude to our graduating majors, minors and clusters who have contributed so much to our Program. We wish you much luck, happiness and continued dance and movement in your life to come, and we look forward to seeing you make your mark on the world! We will miss you - keep in touch and congratulations!
2021 Dance Majors
Yaa Adenike Z. Cunningham: Dance Studies
Alydia A. Meinecke: Dance Studies
Da'yana Segears: Creative Expression and Performance
Kayla E. Ucciferri: Dance Studies
2021 Dance Minors
Samantha G. Mensah
Lia X. Nelson
Remiah L. Sundine
Zivile Vebraite
Awards and Prizes
The Program of Dance and Movement is proud to present the following awards and prizes:
Sevigny Service Award
Hook-Taylor Dance Award (Pooka Dance Prize)
Dancer Scholar Award
Choreographic Ingenuity Award
Above and Beyond Award
About the Hook-Taylor Dance Award
We are thrilled to present the 6th Annual "Pooka Prize" to a deserving senior dance student or students to recognize their passion, imagination, and ability to take risks in the art of dance and/or choreography. This fund and prize award has been given by Paul H. Taylor, recognized dance photographer, in honor of his father Dr. L. Holland Taylor, who graduated from the University of Rochester Medical School after returning from WWII. Dr. Taylor set up his practice in Rochester which was in existence for over 35 years, where he and Paul's mother Constance Taylor, were generous philanthropists for the arts in our community.