DEI Forums
One of the key priorities to emerge from the department's 2021 Diversity, Equity, and Inclusion (DEI) Days of Action was the need to sustain department-wide discussion of how multifaceted topics of diversity, equity, and inclusion relate to our department, the chemistry field, STEM disciplines, and society.
Toward this goal, the DEIO committee launched a continuing series of monthly DEI Forums. These forums involve interactive, guided discussions based on articles, films, podcasts, guest speakers, and/or other media shared in the one to two weeks prior to each forum. These forums are open to all in our department community–including undergraduates, graduate students, postdocs, staff, and faculty.
In the spirit of Meliora, we hope that these forums will help to center DEI in our ongoing departmental conversations, growth, and pursuit of excellence. Please contact Professor Rose Kennedy to volunteer to facilitate forums, to suggest future topics, and/or to provide any other feedback, questions, or comments.
Chemistry DEI Education Certificates
Beginning spring 2022, University of Rochester community members can earn Chemistry DEI Education Certificates for participation in DEI forums. Certificate recipients will be recognized at the annual departmental awards ceremony and are welcome/encouraged to list this recognition on their CV. We hope that this program will help to recognize, validate, and value the hard work our community members undertake toward DEI efforts.
[Cu] DEI Education Certificate (Copper/Bronze): Attend at least four forums in one calendar year.
[Ag] DEI Education Certificate (Silver): Attend at least six forums in one calendar year.
[Au] DEI Education Certificate (Gold): Attend at least six forums AND organize at least one forum in one calendar year.
To earn a certificate, verified "attendance" requires registering in advance AND…
Keeping your camera on for the duration of the forum AND/OR participating (verbally) throughout the forum (for virtual (Zoom) forums)
Completing the attendance sign-in sheet at the end of the forum (for in-person forums)
All are still welcome to attend/participate in any of the forums without meeting the verified attendance criteria. In these cases, attendance simply will not be "counted" toward the certificate.
Upcoming
Upcoming forums will be posted here as they are announced.
November 2022

(Postponed)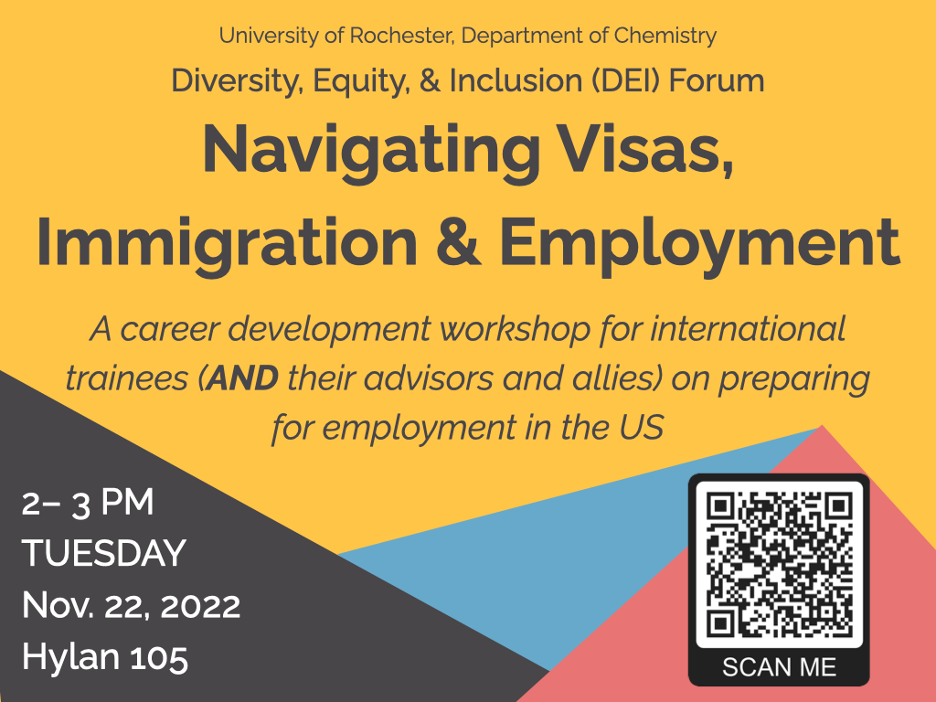 Navigating Visas, Immigration, and Employment
Tuesday, November 22, 2022, 2–3 p.m. Event postponed, Spring 2023 date TBD
105 Hylan Building
Special guest Nate Bloemke, International Services Office
The November forum will focus on Navigating Employment Opportunities as an International Trainee. This interactive workshop with Nate Bloemke (UR International Services Office) will: (i) articulate the unique challenges faced by international trainees studying in the US, (ii) demystify the visa and immigration process and jargon, (iii) identify strategies and tools that enable trainees to leverage their unique experience to secure future employment opportunities. Although this event addresses the international student experience, those from all backgrounds are welcome and encouraged to attend and participate.
Suggested Resources
In preparation, we invite you to read the following resources:
Archive
For a complete archive of past DEI Forums, please visit Kennedy Research Group's DEI forums page.
October 2022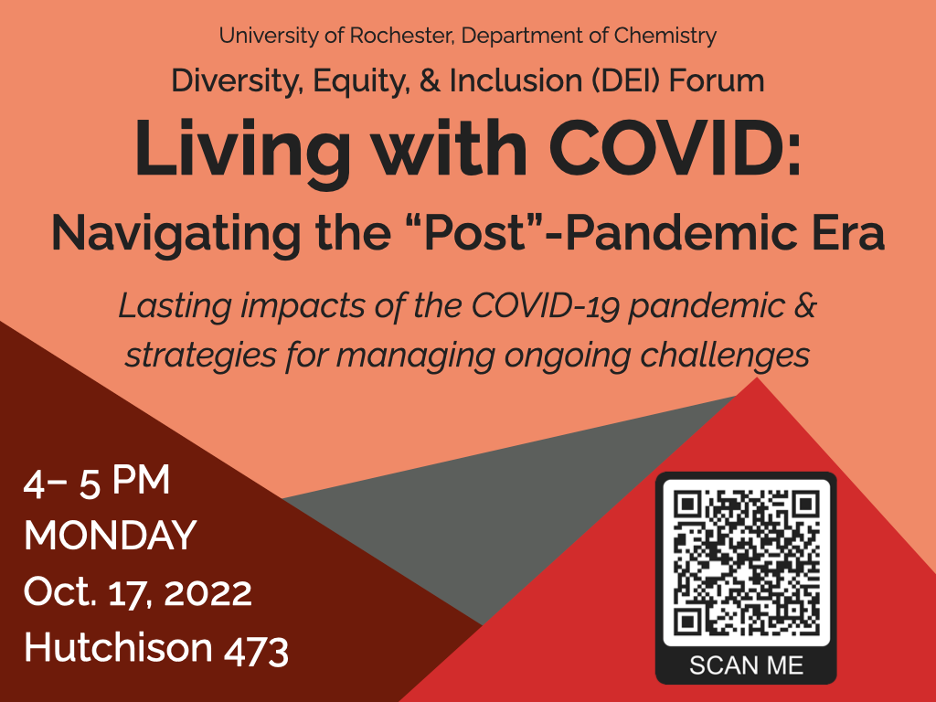 Living with COVID: Navigating the "Post"-Pandemic Era
Monday, October 17, 2022, 4–5 p.m.
473 Hutchison Hall
The October forum will focus on Living with COVID with the goals of understanding lasting impacts of the COVID-19 pandemic and identifying strategies for managing ongoing challenges in work, life, learning, and relationships.
Suggested Resources
In preparation, we invite you to read the following resources:
Morin A, Helling BA, Krishnan S, Risner LE, Walker ND, Schwartz NB. Surveying the experience of postdocs in the United States before and during the COVID-19 pandemic. Elife. 2022, 11, e75705. DOI: 7554/eLife.75705
Termini, C.M., Traver, D. Impact of COVID-19 on early career scientists: an optimistic guide for the future. BMC Biol2020, 18, 95. DOI: 1186/s12915-020-00821-4
Sifri, R. J.; McLoughlin, E. A.; Fors, B. P.; Salehi, S. Differential Impact of the COVID-19 Pandemic on Female Graduate Students and Postdocs in the Chemical Sciences. Chem. Ed.2022, 99, 3461–3470. DOI: 10.1021/acs.jchemed.2c00412
September 2022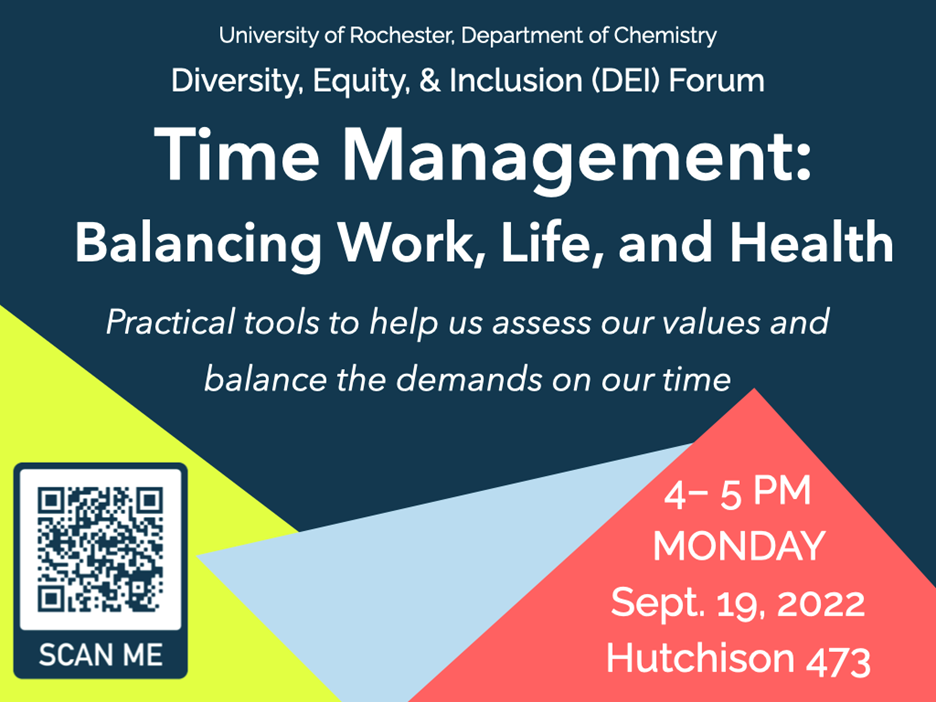 Time Management: Balancing Work, Life, and Health
Monday, September 19, 2022, 4–5 p.m.
473 Hutchison Hall
The September forum focused on time management with the goals of understanding the importance of effective time management, appreciating why time management is so challenging, and sharing practical tools to help us express our values and spend our time on the things that matter most.
Suggested preparation resources:
Guiding discussion questions:
Why is time management important?
How do we like to procrastinate?
How do you spend your time and how do you know how you spend your time?
What techniques help us to organize our time?
How can we use our time more effectively?