Diversity, Equity, and Inclusion
Overview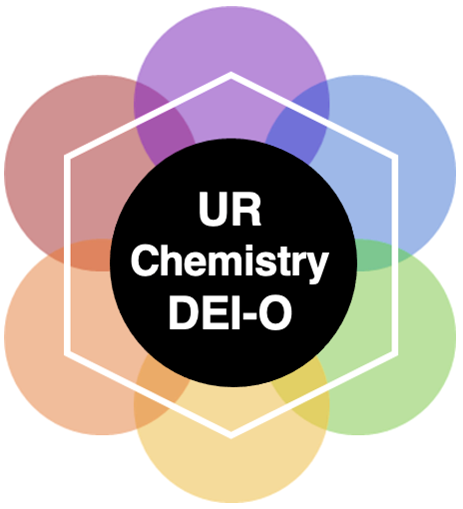 Our department firmly believes that all individuals interested in pursuing education, research, and/or teaching in the chemical sciences should have an equal opportunity to do so in a welcoming, encouraging, and equitable atmosphere. We recognize and affirm that recruiting, retaining, and supporting students, postdocs, staff, and faculty with diverse identities and lived experiences—including different races, ethnicities, nationalities, gender identities and expressions, sexual orientations, ages, socioeconomic backgrounds, and physical and learning abilities—is crucial to establishing a classroom culture where all students feel valued and vibrant research teams equipped to tackle cutting-edge challenges through creative and innovative approaches. We commit to building and actively sustaining an environment where people from all backgrounds, particularly those historically underrepresented in chemistry, can excel.
Diversity, Equity, Inclusion, and Outreach Committee
With the aforementioned goals in mind, the mission of the Diversity, Equity, Inclusion, and Outreach Committee is to bring undergraduate students, graduate students, postdocs, staff and faculty together to:
Who are we???  2020-2021 Committee Members

Interested in getting involved? Want to learn more? Contact Ellen Matson (Chair of DEI-O committee; matson@chem.rochester.edu) to get your questions answered!
Upcoming Events
12pm-1pm
The DEI-O Committee has launched a continuing series of monthly DEI Forums. These forums involve interactive, guided discussions based on articles, films, podcasts, or other media shared in the 1–2 weeks prior to each forum. These forums are open to all in our department community–including undergraduates, graduate students, postdocs, staff, and faculty. In the spirit of Meliora, we hope that these forums will help to center DEI in our ongoing departmental conversations, growth, and pursuit of excellence. Please contact Rose Kennedy to volunteer to facilitate forums, to suggest future topics, and/or to provide any other feedback, questions, or comments.
College & Graduate Diversity Roundtable (C/GDR) –Monthly (Dates TBD)

The Graduate Diversity Roundtable is structured as a student-centered task force where campus climate and quality of life issues and/or concerns can be voiced, heard, and acted upon, especially those affecting racial, ethnic and cultural groups on campus. The C/GDR is also a focal point for diversity discussions, initiatives and best practices. The C/GDR provides opportunities for all participants to engage in activities and conversations that address current affairs and contemporary challenges affecting individuals and groups of various intersecting identities, and serves as a forum for discussion of the ways in which we can celebrate the diversity that enriches our campus community.
For more information about CDR, please contact Jessica Guzman-Rea.
For more information about GDR, please contact Liz Daniele.
Other DEI Events at the University of Rochester
The Kearns Center offers a variety of events aimed at promoting and cultivating an equitable, respectful, and welcoming culture at the University of Rochester. Click here for a calendar of upcoming events.


Important Resources
University Organizations
Resources Available Outside the University