Classes Taught by VCS Students
The Graduate Program in Visual and Cultural Studies offers teaching opportunities for its Ph.D. students through various channels such as the Dean's Teaching Fellowship and Susan B. Anthony Institute for Gender and Women's Studies Teaching Fellowship. Below are several classes that have been taught by VCS students in 2013.
---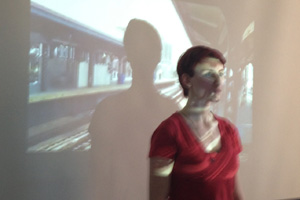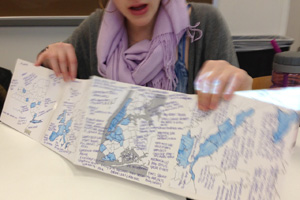 In this course, Amanda's students examined the historical relationship between drawing and dance, as well as movement and mark-making more broadly conceived. How do visual artists and choreographers map the moving body? How do dancers translate notation from page to stage? These are some of the questions that the students sought to answer in this class. The class focused on drawings, diagrams, sculptures, dances, photographs, websites, films, and videos by 20th century and contemporary artists and choreographers as a means of exploring space, place, distance, and identity. The class was designed for students interested in interdisciplinary artistic practices, dance history, and visual culture.
---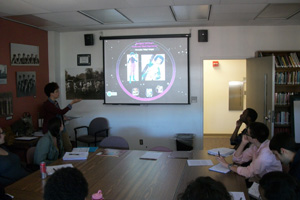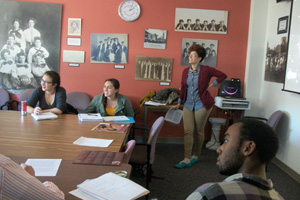 As a class designed for the Susan B. Anthony Institute for Gender and Women's Studies, Tiffany's class traced a visual and cultural history of black female subjectivity in futurist contexts. Through a select study of contemporary visual art, film, and speculative fiction, her students investigated how artists like Wangechi Mutu, Grace Jones, and Janelle Monáe question normative representations and constructions of black womanhood as one-dimensional, abject, and alien. They also explored themes such as social constructions of identity, notions of belonging and community, and how science fiction and fantasy might function as sites of resistance particular to black womanhood in the United States.
---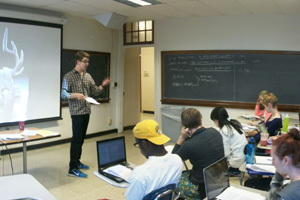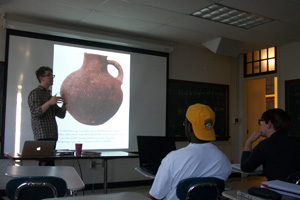 In this courseAlex's students addressed the art of the Western Hemisphere, with an emphasis on exchange between diverse populations. The class introduced the students with materials such as Pre-Columbian architecture, performance arts of the African diaspora, Civil War memorials, Native American art, world's fairs, abstract painting in New York after WWII, and contemporary South American art. They learned about key topics in the visual culture of the Americas including modernism, globalism, collective memory, and cultural encounter.
---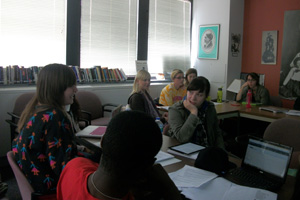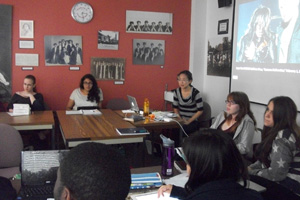 Another class designed for Susan B. Anthony Institute for Gender and Women's Studies, this colloquium explored the definition(s) of feminism, its history, and how the movement affects social policy, popular presentation, and our daily lives. Becky's students studied the canonical works by theorists such as Simone de Beauvoir and Gayle Rubin, as well as debates surrounding the politics of identity, reproductive choice, family, and labor.