E. Burke Collins
*
Back Face:
A MEMBER OF
THE 21st N.Y. VOL. CAV.
HE SERVED NOBLY DURING
THE WAR AND WAS DESPERATELY
WOUNDED IN DEFENSE OF
HIS COUNTRY
HE WAS ALSO A MEMBER OF THE
GRAND ARMY OF THE REPUBLIC
AND OF THE
MASONIC FRATERNITY
Angled Side:
E. BURKE
COLLINS
A DEVOTED HUSBAND
A BRAVE SOLDIER
A TRUE GENEROUS FRIEND
BORN IN
BRISTOL N.Y.
MAY 30, 1842
AND ACCIDENTALLY
SHOT IN
PONCHATOULA LA
FEB.11.1872
AGED 29 YRS
8 MO.12 DAS
Front:
MY HUSBAND
IN SUCH AN HOUR AS YE
THINK NOT, THE SON OF MAN COMETH
A glance at the angular stone of E. Burke Collins reveals something different and out of place. Was this marble triangle simply a shape that this man's wife found pleasing as a way to remember him or was there some deeper meaning to this shape? A consideration of this stone's shape and text suggests that it was thoughtfully planned. Its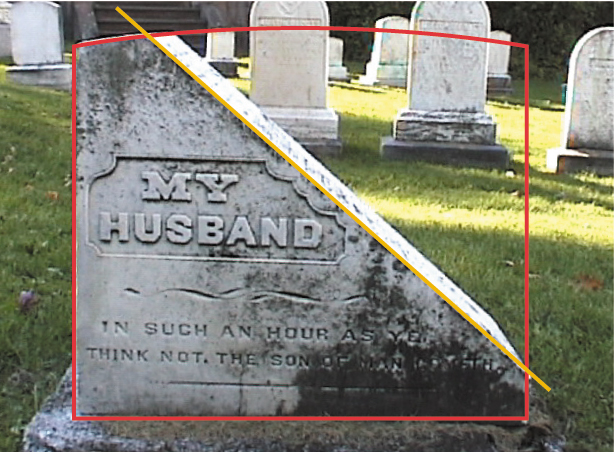 shape and texts, as well as the texts' locations all combine to complete the full meaning of this monument.

The surfaces of this stone are relatively plain; there is very little iconography on the surfaces of this stone. The simple decorative lines leave the powerful message of the stone's shape and words to speak for themselves without other distracting symbols. The design of this stone was, perhaps chosen by the wife of E. Burke Collins, since the largest text on the front of this stone is "My Husband". It seems obvious that she wanted this stone with its unique geometry to catch the attention of any passers by. Follow the straight side upwards to the slightly curved upper edge and continue the curve. (see plate 1) These lines meet to form a very conventional shape of a tablet style with a curved top. Collins' is not a complete triangular, but rather a full tablet cut off at little more than half its size, bearing a strong relation to the person whose grave this stone marks. E. Burke Collins was shot by accident when only 29 years old, scarcely more than half the life expectancy of that time.

E. BURKE
COLLINS
A DEVOTED HUSBAND
A BRAVE SOLDIER
A TRUE GENEROUS FRIEND
BORN IN
BRISTOL N.Y.
MAY 30, 1842
AND ACCIDENTALLY
SHOT IN
PONCHATOULA LA
FEB.11.1872
AGED 29 YRS
8 MO.12 DAS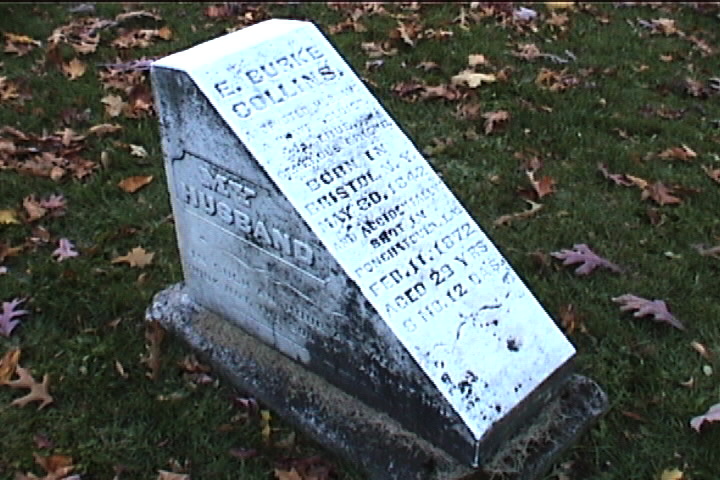 The meaningful geometry of this stone continues with the location of the text. The plain facts of this death are inscribed along the angled side of this stone. It is stated in an almost painfully simple manner: A few words of remembrance; what he was to his wife, what he was to his country, and what he was to his friends. This is followed by his place of birth, as well as when and how he died. E. Burke Collins was not buried in Rochester until February 22nd according to his obituary, eleven days after the date on the inscription. (Democrat and Chronicle, Feb 22, 1872:4) Either there was some time between when he was shot and when he actually died, or more likely, with the transportation system of that era it simply took the eleven days for his body to be transported to its final resting place.
The inscription on the back face reads:
A MEMBER OF
THE 21st N.Y. VOL. CAV.
HE SERVED NOBLY DURING
THE WAR AND WAS DESPERATELY
WOUNDED IN DEFENSE OF
HIS COUNTRY
HE WAS ALSO A MEMBER OF THE
GRAND ARMY OF THE REPUBLIC
AND OF THE
MASONIC FRATERNITY
This inscription bears "Words Against Death" as they aim to console the bereaved and remind them that the life of E. Burke Collins had meaning and was not lost without a cause. (Davies, 1-throughout) He was wounded in defense of his country, about the most noble cause for which a man can give his life. This was in the time period shortly after the Civil War during which he fought for the North to keep the country together. This is how those who knew him wanted to remember him, as someone who died for his country, and someone who was a member of the Masonic Fraternity.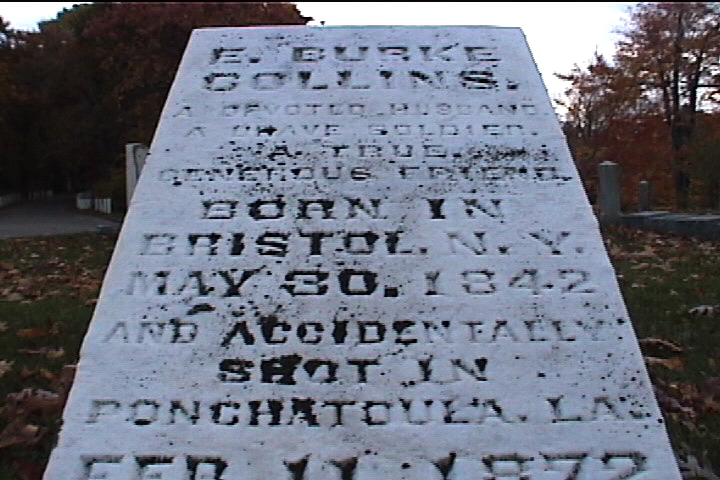 MY HUSBAND
IN SUCH AN HOUR AS YE
THINK NOT, THE SON OF MAN COMETH
The front face of this stone has the least text but it must have been the most meaningful because it faces the road, where even those who do not stop to look at the other inscriptions on this stone can read it. Most importantly to those who placed this stone,this man was a husband, whose loss was sudden and grievous. The passage from Matthew 24:44 is very appropriate.
Therefore be ye also ready: for in such an hour as ye think not the Son of man cometh. (The Bible, King James Version, Matthew 24:44)
No one knows when their time will come; some people live to an old age while others die suddenly in the prime of life. The bereaved may have coped better knowing that there was a reason for Collins' death, and while it may have seemed premature to them it was perfectly acceptable that God would take a person when it was time. It is humanity's natural tendency to look for an explanation of sudden or unexpected things, and to want to feel that nothing happens without reason.(Myers, pp 373-374, 20-25) All is right if it is God's will. In a larger context, this passage from the Bible takes on a fuller meaning.
42 Watch therefore: for ye know not what hour your Lord doth come.
43 But know this, that if the goodman of the house had known in what watch the thief would come, he would have watched, and would not have suffered his house to be broken up.
44 Therefore be ye also ready: for in such an hour as ye think not the Son of man cometh.
45 Who then is a faithful and wise servant, whom his lord hath made ruler over his household, to give them meat in due season?
46 Blessed is that servant, whom his lord when he cometh shall find so doing.
47 Verily I say unto you, That he shall make him ruler over all his goods.
48 But and if that evil servant shall say in his heart, My lord delayeth his coming;
49 And shall begin to smite his fellowservants, and to eat and drink with the drunken;
50 The lord of that servant shall come in a day when he looketh not for him, and in an hour that he is not aware of,
51 And shall cut him asunder, and appoint him his portion with the hypocrites: there shall be weeping and gnashing of teeth.
(The Bible, King James Version, Matthew 24:42-51)
This passage from Matthew speaks of the second coming of Christ and the end of the world. Most importantly, it stresses that no man can tell when the time of their death will come. This fact must have been important to the family after Collins' death. When such a tragedy befalls a family without warning, they search for answers, and they appear to have found condolence with the Bible, knowing that while they may not be able to explain why he died so young, God does have a reason for everything. While he will be sorely missed from this world, they may beet again at the end of time; this is God's word, and so all remains right in the world. (Myers, pp 373-374, 20-25)
The overall meaning of this stone is well thought out and put together. The cut off shape of the stone along with the descriptions on the angled side speak the simple truth about this death. The obvious fact that a piece is missing suggests to passers-by the sudden missing piece that was felt in all that knew him. The front and back faces of this stone, those that bear inscriptions on other more conventional stones also carry similar messages. These "Words against death" recall the meaning E. Burke Collins' life, and remind all who knew him that his life did not end without accomplishment.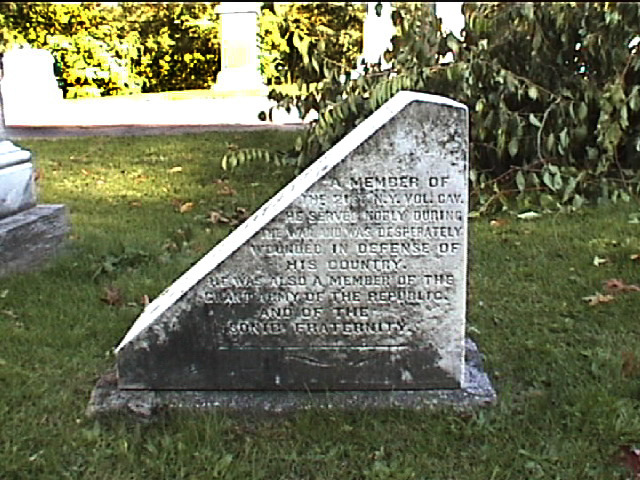 Researcher: Aaron Zschau
University of Rochester




Back to the Speaking Stones Main Site


---
Bibliography
Davies, Douglas J. Death, Ritual and Belief. Washington: Cassell,
1997.
"Died". E. Burke Collins. Democrat and Chronicle. 22 February
1872:4
Lifton, Robert Jay. The Broken Connection. New York: Simon and
Schuster, 1979.
Meyers, David G. Social Psychology. 6th ed. New York: McGraw-Hill
College, 1999.
Reisem, Richard O. Mount Hope. Rochester, New York: Landmark
Society of Western New York, 1994.