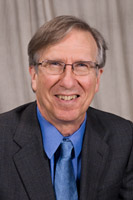 G. Bingham Powell, Jr.
Marie C. Wilson and Joseph C. Wilson Professor Emeritus of Political Science

---
Profile:
PhD, Stanford, 1968. Comparative politics, parliamentary democracies, ideological representation. President of the American Political Science Association, 2011-2012. Managing Editor of the American Political Science Review, 1991-95. His APSA Presidential Address, "Representation in Context" was published in Perspectives in Politics in March 2013. He is co-author of the Presidential Task Force report Political Science, Election Rules and Democratic Governance (APSA 2013). Co-author and co-editor of leading undergraduate comparative politics text, Comparative Politics Today, now in its 10th edition. Current research examines problems of political representation in different electoral, party, and policymaking systems. His book Contemporary Democracies: Participation, Stability and Violence (Harvard, 1982) won the Woodrow Wilson Foundation Award for best book in political science in 1982. His book, Elections as Instruments of Democracy: Majoritarian and Proportional Visions (Yale, 2000), was co-winner of the 2002 Mattei Dogan Award for the year's best book in comparative politics. Recipient of the 1999 University Award for Graduate Teaching and the 2009 Goergen Award for distinguished undergraduate teaching. Teaches courses in the field of comparative politics. The Powell Graduate Mentoring Award, a bi-annual award of the Comparative Politics Section of APSA, was created by his students to honor a political scientist who demonstrates an outstanding commitment to mentoring graduate students in the field.
---