Music of Poland: Chopin Favorites and Modern Masterpieces
Johnandrew Slominski, piano
Sunday, April 10th, 7:00 pm
Strong Auditorium, UR River Campus
Program
Dwie Inwencje na fortepian / Two Inventions for Piano (1958)
Zygmunt Krauze (b. 1938)
Four Mazurkas, Op. 17

Frederic Chopin (1810-1849)

1. Vivo e risoluto
2. Lento, ma non troppo
3. Legato assai
4. Lento, ma non troppo

Chopin

Etude in C minor, Op. 10 No. 12
Etude in F major, Op. 10 No. 8
Etude in A-flat major, Op. Posthumous
Etude in C-sharp minor, Op. 25 No. 7
Etude in C minor, Op. 25 No. 12

Intermission

Dwie Inwencje na fortepiano / Two Inventions for Piano (2015)

Krauze

Chopin

Waltz in C-sharp minor, Op. 64 No. 2
Waltz in D-flat major, Op. 64 No. 1

Chopin

Andante Spianato & Grande Polonaise Brillante, Op. 22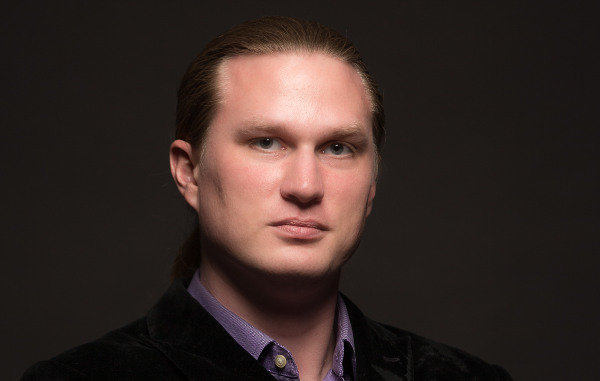 Free and open to the public
American pianist Johnandrew Slominski enjoys a distinguished reputation as a performer and pedagogue. His elegant playing has earned praise from composers and critics alike. Slominski seamlessly navigates the landscape of a varied and thriving career as a soloist, chamber musician, music theorist, author, pedagogue, and speaker. Highlights of the current season include performances of Schumann's Piano Concerto in A minor, Op. 54, a set of recordings for Oxford University Press, a forthcoming CD of solo piano music on the Centaur label, a recently published article in Music Theory Online (the digital publication of the Society for Music Theory), and more than a dozen teaching and speaking engagements nationwide.
A child prodigy, Slominski gave his first public performance at age 5, won his first piano competition at age 6, and entered college at 15. By 21, Slominski earned three degrees from the Eastman School of Music including a Master of Music in Performance and Literature, a Master of Arts in Pedagogy of Music Theory, and a Bachelor of Music in Performance; his first professorship followed two years later. He was unanimously nominated for (and received) Eastman's coveted Performer's Certificate in recognition of outstanding concert artistry—the youngest individual to have received that honor. While completing the Doctor of Musical Arts degree at Eastman, he was awarded the Prize for Excellence in Teaching by a Graduate Student and the Jerald C. Graue Fellowship in recognition for his musicological research. His innovative performance projects and pedagogical research have been supported by grants from institutions including the Classics Abroad Society and the Andrew Mellon Foundation. A specialist in the field of eighteenth-century music, Slominski is the founder and director of "Classical Music on the Spot", an institute at the Eastman School of Music dedicated to the research, pedagogy, and performance of eighteenth-century style improvisation at the keyboard.
Praised for his virtuosity, innovative programming, and broad repertoire, Slominski performs throughout the United States and abroad; recent guest artist appearances have included concerts, master classes, and lectures at the Chautauqua Institution for Fine and Performing Arts (NY), Sarasota Music Festival (FL), Sarasota Steinway Society (FL), St. Petersburg College Piano Series (FL), Dakota Sky International Piano Festival (SD), Sunderman Recital Series (PA), Sherman Clay Steinway, Portland (OR), Sun Valley Artist Series (ID), Jan Deyl Conservatory (Czech Republic), Salle Cortot (France), and the Tel Aviv Early Music Seminar (Israel). As a competition laureate, Slominski was awarded first prize in the Chautauqua International Piano Competition and was the silver medalist in the inaugural International Keyboard Odyssiad Piano Competition. His recordings have been broadcast domestically by National Public Radio and are included in publications by Oxford University Press. His principal studies were with Rebecca Penneys; additional teachers have included Robert Levin, John Perry, Steven Laitz, Dorothy Fahlman, Malcolm Bilson, Joseph Silverstein, and Jean-Francois Antonioli. Slominski has held teaching positions at the Sunderman Conservatory at Gettysburg College and Virginia Commonwealth University and he has served as a joint faculty member at the Eastman School of Music in both piano and music theory. Since 2012 Slominski has held the position of Assistant Professor of Music Theory at the Eastman School of Music.
About the Composers
Polish composer and pianist Zygmunt Krauze (b. 1938), studied piano and composition at the Chopin Academy of Music in Warsaw, then in Paris with Nadia Boulanger. Krauze's compositions include five operas, staged in such theatres as the National Theater in Mannheim, Theatre National de la Colline in Paris, Staatsoper Theater in Hamburg, Teatr Wielki in Warsaw, Opera Wrocławska, Warszawska Opera Kameralna and Théâtre du Capitole in Toulouse. In 2012 a staging of the opera "Polyeucte" received the award of the French Syndicat de la critique Théâtre, Musique et Danse as the best musical creation of the year. The instrumental forms employed by Krauze vary from miniatures to symphonic works engaging hundreds of musicians. He is known as a composer of unistic music, based on the theory of unistic art adopted from the painting of Władyslaw Strzeminski (1893-1952). Unistic music lacks contrasts, tension and climaxes in the traditional sense and its form is as homogenous as possible.
As an actively performing pianist, Krauze not only composes for this instrument, but also performs his own compositions. Since 1963 he has given solo performances and has played with the leading orchestras conducted by Gary Bertini, Jan Krenz, Leif Sagerstam, Kazimierz Kord, Kazuyoshi Akiyama, Bohdan Wodiczko, Paul Zukofsky, Ernest Bour, Hans Zender, Jerzy Maksymiuk, Wojciech Michniewski and many others. Many of his artistic activities took place outside Poland: in the U.S., France, and in Berlin.
In acknowledgement of his accomplishments he was decorated with the Silver Cross of Merit (Poland, 1975), and in 1984 in France he was awarded the title of Chevalier dans l'Ordre des Arts et des Lettres. In 1988 he won the annual prize of the Polish Composers Union and in 1989 the Prize of the Ministry of Culture in Poland. Zygmunt Krauze's works have been recorded on CD by Sony, EMI, Collins Classics, Muza, ORF, Thesis, Nonesuch.
Fryderyk Chopin (1810 –1849) was one of the truly outstanding composers of the 19th century and certainly the greatest and most influential Polish composer of that period. He "had the rare gift of a very personal melody, expressive of heart-felt emotion, and his music is penetrated by a poetic feeling that has an almost universal appeal.... Present-day evaluation places him among the immortals of music by reason of his insight into the secret places of the heart and because of his awareness of the magical new sonorities to be drawn from the piano" (Arthur Hedley.) Besides numerous compositions for solo piano, Chopin wrote music for piano and orchestra, chamber music (all including piano), and songs. Chopin's works are mainstays of Romanticism in 19th-century classical music.
Co-sponsored by the Skalny Center for Polish and Central European Studies and the University of Rochester Department of Music.