Karol Szymanowski (1882-1937)
By Zbigniew Granat
Karol Szymanowski was born on Oct. 3, 1882 in Tymoszówka near Kiev, now in the Ukraine, into a family of Polish landowners. Having received his musical education at home and a music school in nearby Elisavetgrad, in 1901 he moved to Warsaw, where he studied counterpoint and composition with the prominent composer Zygmunt Noskowski. Although the recently established Warsaw Philharmonic Orchestra contributed significantly to the city's musical life, Szymanowski was disappointed that it did not encourage progressive trends in Polish music. In 1905 he and three other composers (Fitelberg, Róźycki and Szeluto) founded the Young Polish Composers' Publishing Co., which promoted concerts and the publication of new Polish music. Known as "Young Poland in Music," the group was short-lived but during its time received support from famous patrons such as Prince Władysław Lubomirski and pianist Artur Rubinstein.
During these early years, generally viewed as Szymanowski's "romantic" period, the young composer wrote music heavily influenced by Chopin and Skriabin, but also by Wagner, Richard Strauss, Brahms, and Reger. The major works of this period included Chopinesque piano preludes and etudes; numerous songs to texts by Young Poland poets such as Tetmajer, Kasprowicz, and others; two symphonies; opera
Hagith
, modeled on Strauss'
Salome
; Variations on a Polish Folk Theme op.10; and the orchestral Concert Overture, op.12.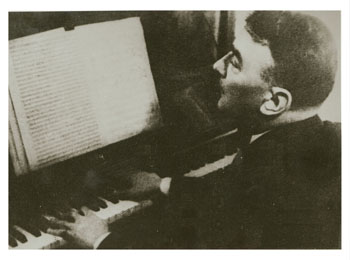 Szymanowski's long fascination with the late German Romantic tradition faded between 1910 and 1914, mainly due to several trips he took to Italy, Sicily, and North Africa, as well as to his discovery of the music of Debussy, Ravel, and Stravinsky. The Mediterranean impressions coupled with the new stylistic models strongly impacted the music he composed in Tymoszówka during the war years. The highlights of this most prolific "impressionistic" period in Szymanowski's career included the great piano cycles,
Metopes
and
Masques; Myths
for violin and piano; song-cycles
Songs of a Fairy Princess and Songs of an Infatuated Muezzin
; the First Violin Concerto, the Third Symphony, and the celebrated opera
King Roger
, which he begun in 1918 and completed in 1924.
After Poland won its independence in 1918 and the Szymanowski family returned to Poland the following year, the composer embarked on a search for a new nationalist orientation of his music. His discovery of the folk music of the Tatra highlanders in southern Poland proved extremely influential and resulted in a number of masterpieces representing the so called "nationalist" period in Szymanowski's career. These included the ballet-pantomime
Harnasie
, the Mazurkas op.50 for piano, the song-cycle
Słopiewnie
, the
Stabat mater
and Violin Concerto no. 2.
By the mid-1920s Szymanowski became a prominent figure in Polish musical life, becoming director of the Warsaw Conservatory in 1927 and rector of the State Academy of Music in 1930. Both position caused him much stress and aggravation and contributed to the deterioration of his health. Thanks to his international reputation, in the last years of his life Szymanowski was able to undertake concert tours throughout Europe, yet they also proved burdensome. He died of tuberculosis in a Lausanne sanatorium on March 29, 1937. He was 54.