Humanities Project:  "New Approaches to Poetry & Song" - Sept 30 - Oct. 2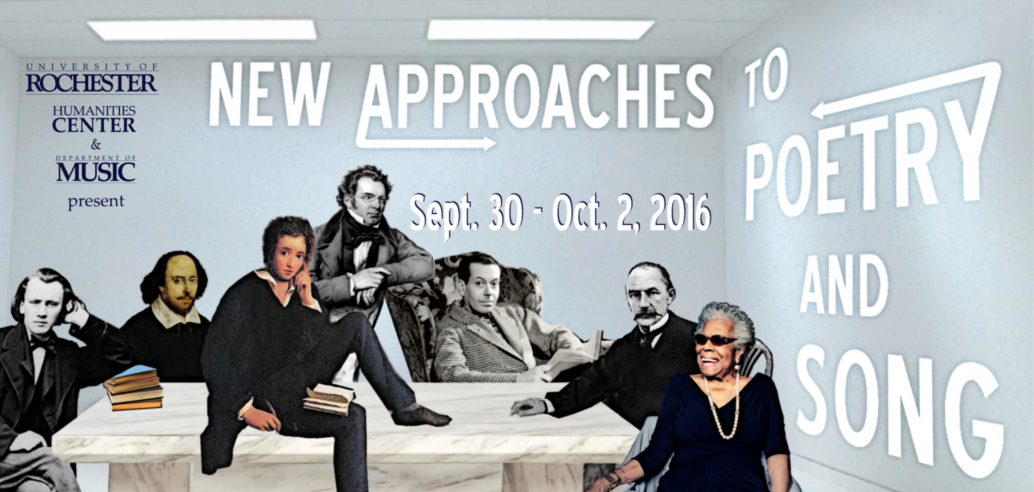 Poetry, like music, offers too much to attend to. We can listen to the sound of words, the patterns of accent, or the balance of rhymes. We can think about style, tone, voice, and address. We can study form and syntax, rhythm and meter, place and time. And yet when scholars analyze song, they tend to restrict themselves to rather limited aspects of the source poetry, often reducing their inquiry to semantic questions—How does the "meaning" of the poem relate to the expression of the music?
Fortunately, a variety of contemporary song analysts have begun opening up new approaches to song—approaches that are often defined by a careful consideration of poetry in its own right. The aim of this symposium is to bring together a variety of distinguished guests—scholars of poetry and music—to consider more nuanced relationships between poetic texts and their musical settings.
The goal is to investigate how our analyses of song might benefit from sustained attention to the source poetry. Presenters will give special weight to poetic issues such as the sound and rhythm of poetry, the role of space, place and time, and the various shifts in relationships between poetic "speakers" and their addressees. This approach will allow for a variety of new ideas about text-music interaction, including innovative thoughts about rhythm, meter, phrasing, form, and tonal design.
Symposium Schedule
9/30: 8pm, Opening recital by the ESM Voice & Opera Department, Hatch Recital Hall, Eastman School of Music
10/1: 9am to 5pm, Symposium, Dewey 2-162, River Campus
10/2: 9am to 12pm, Symposium, Dewey 2-162, River Campus
CLICK BELOW FOR FULL PROGRAM (pdf file)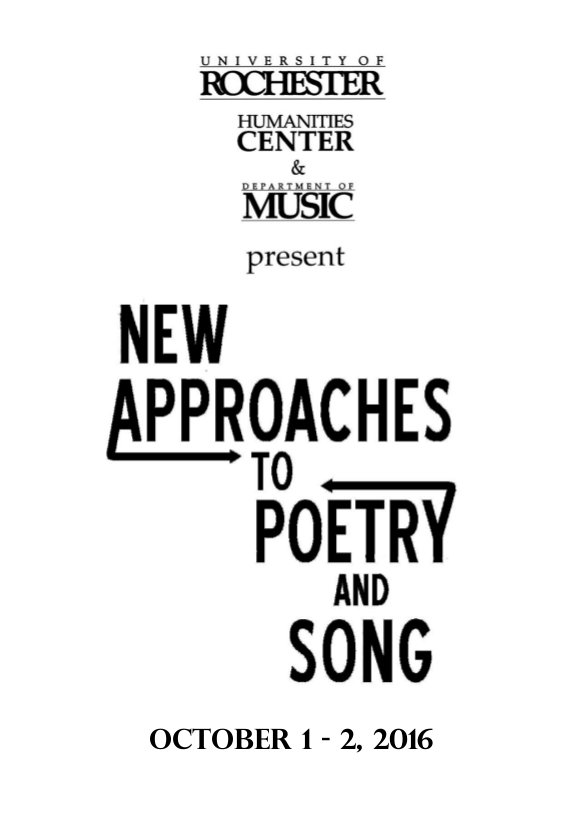 "Fanfare for the Common Man" greets the Class of 2020 and returning students
Wednesday, August 31, 2016, Dr. Honey Meconi led an all-female ensemble of students, alumni and faculty in the performance of Aaron Copeland's iconic and haunting "Fanfare for the Common Man."  The ensemble performed the piece at 8:30 AM, from the balcony of Rush Rhees Library, over looking the Eastman Quadrangle.  Dr. Meconi hopes to make this an annual event.  For photos by UR photographer J. Adam Fenster, click here. 

West African Drumming & Musical Theater Workshop Promo Videos
The UR Institute for Performing Arts released two videos featuring the West African Drumming Ensemble, featuring Kerfala "Fana" Bangoura,  and the Musical Theater Workshop, featuring Dr. Kim Kowalke and Mr. David Runzo.  The videos, produced for IPA by IT Communications, were premiered on the Institute's Youtube channel.
The Hopeman Memorial Carillon Summer Recital Series is set to begin on Monday, July 11 on the University of Rochester's River Campus. The free outdoor concerts on the Eastman Quadrangle are open to the public and continue each Monday in July, with a special "extra" concert by our own UR Carillon Society on Monday August 1.
The program will begin at 7 p.m., rain or shine, and last about an hour. Concert-goers are encouraged to bring folding chairs, blankets, snacks or picnics, and relax on the lawn on the west side of Rush Rhees Library. The annual event features carillonneurs who travel throughout the world to perform music specifically written for the instrument of bells.
Housed in the upper-most chamber at the top of Rush Rhees tower, the Hopeman Memorial Carillon consists of 50 bells that were cast in bronze by Royal Eijsbouts Bellfoundry of Asten in the Netherlands. Throughout the year, the sounds of the carillon can be heard on campus as the traditional melody known as "Westminster Quarters" marks every quarter hour. One of only seven carillons in New York, the more than three-ton instrument is regularly played by students of the University's Carillon Society, who perform classic and modern musical compositions for campus events, holidays, and special impromptu concerts. The ringing of the carillon bells also marks special community, state, and national events.
Performer schedule:
Monday, July 11 - Mathieu Daniel Polak

Monday, July 18 - Gordon Slater
Monday, July 25 -

Toru Takao

Monday, August 1 - UR Carillon Society - "Dancing Fireflies Carillon"
Brian Alegant named 2015 U.S. Professor of the Year

Congratulations to Brian Alegant, Professor of Music Theory at Oberlin College and recipient of a 2015 U. S. Professor of the Year Award.  Professor Alegant taught in the College Music Department in 1989–1990 and we are pleased to have provided one of his earliest teaching opportunities.
Recent Department alumnus to join "The Fantasticks"
Andrew Polec (Class of 2012) has been cast in the role of "Matt" in the Off-Broadway production of The Fantasticks at the Snapple Theatre, located on the corner of 50th Street and Broadway in New York City.  Andrew says he is "incredibly excited and  . . will start performing in the show on February 8th!"  Congratulations!
2015/2016 Concerto Competition Winners
The judges have spoken. The results are in from the 2015/2016 Concerto Competition held in Strong on November 4, 2015.  Winners will perform with URSO or URCO, and are as follows:
Zhenzhi Xia, piano, performing Beethoven's Piano Concerto No. 1, Movement 1, with the Symphony Orchestra, Saturday, February 27, 2016
Di Wang, piano, performing

Bach's Keyboard Concerto in D Minor, Movement 1, with the Chamber Orchestra, Saturday, February 20, 2016

Stan Chen, violin, performing Bruch's Violin Concerto, Movements 1 and 2, with the Symphony Orchestra, Saturday, April 16, 2016
Chantelle Lim, violin, performing Mendelssohn's Violin Concerto, Movement 3,

with the Chamber Orchestra,

Tuesday, April 19, 2016
Congratulations!
---
Teaching Assistant Wins Award
The University Dean of Graduate Students has recognized Aaron James with the 2015 Edward Peck Curtis Award for Excellence in Teaching by a Graduate Student. This is a competitive award, and, as Dean of Graduate Students Margaret H. Kearney indicated, "the materials submitted on (Mr. James') behalf clearly demonstrated (his) skill and commitment to the role." This is the second year in a row that the Music Department has nominated a winning candidate. The award includes a monetary prize of $1000.

As teaching assistant for MUR 223, History of Western Music 1750-1850, Prof. Kim Kowalke noted that , "Aaron was an exemplary TA, one of the best I've ever had, and that is a select group indeed, with a half dozen winning the Edward Peck Curtis Award during the last three decades. Aaron deserves to be in that elite company . . "

Aaron James completed an MM in organ performance at Eastman following a BMus at the University of Western Ontario, where he received the Faculty of Music Gold Medal; he is now pursuing a PhD in musicology concurrently with a DMA in organ. His primary research interests involve issues of genre, theology and devotional culture in the sixteenth-century motet. He has presented conference papers at McGill University and the University of Sheffield (UK), and will present his work at the 2014 annual meeting of the Renaissance Society of America. His article on polyphonic settings of the Salve Regina was published in the spring 2014 issue of the Journal of the Alamire Foundation.
---
New Hopeman Carillon Video Created by Students
Created by Kara Morse, Sara Macnally and Jackie Meyer
---
High Voltage Course Profiled by Death Metal Underground
Death Metal Underground recently conducted an interview with Josef Hanson to discuss MUR 145, High Voltage- Heavy Metal Music and its History. Check it out here!