Carillon Administration
Meet the Instructor: Doris Aman
Doris Aman majored in music, studied organ, voice, piano, carillon at Alfred University, carillon with Frank P Law, and piano tuning at Chatauqua Institution. Post graduate training includes body-based dance therapy Bartenieff, Laban, Chace, and Espenak coursework with Kinections, Rochester, NY. Aman has played Hopeman Carillon since 2007, teamed beside and coached UR Carillon Society performers since 2010. Associate member of Guild of Carillonneurs of North America. 
Administration
Matt BaileyShea - Arthur Satz Department of Music, Chair
Sara Rembert - Administrative Assistant
Jimmy Warlick - Music Performance Programs
Goals:   
We perform concerts frequently throughout the year and especially during major University events like Convocation, Meliora, and Graduation. As a public instrument the carillon is available to all departments for collaborations.  We are open to collaborating with you in your classes, your research, your creative activities, and reaching out to the community.  Past examples include "Waterdance" with Dance Department, holiday sing along, electric violin plus carillon, beatbox plus carillon, Native American flute plus carillon, an overtone audio research study, and a collaboration with Ghandi Institute called  "A Peaceful Reminder".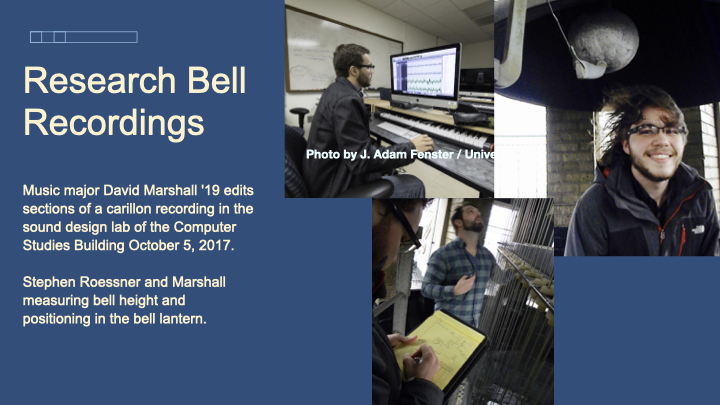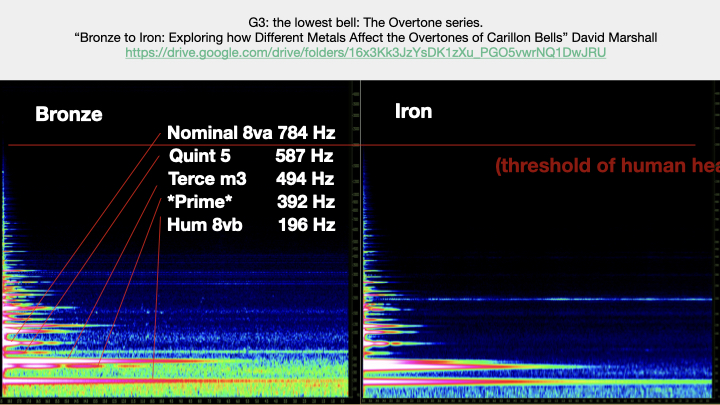 (photo credit - David Marshall)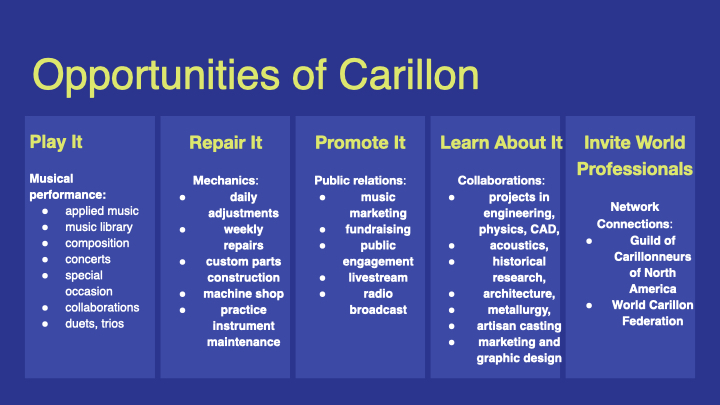 Picture showing various carillon opportunities such as musical performances and public relations.