Concerts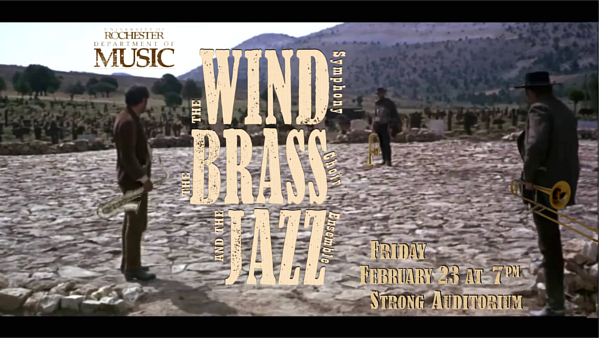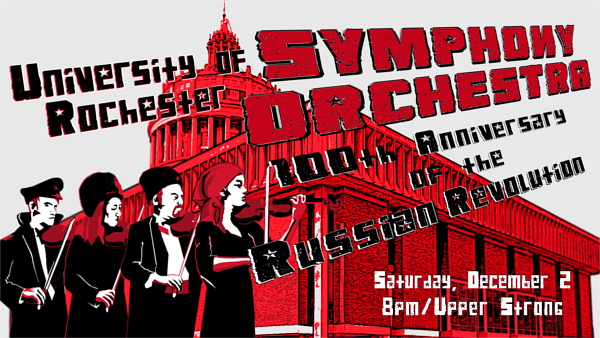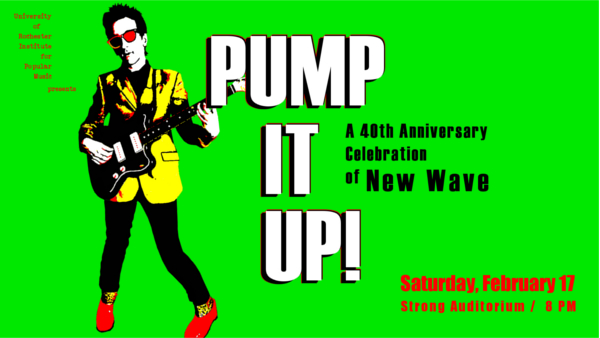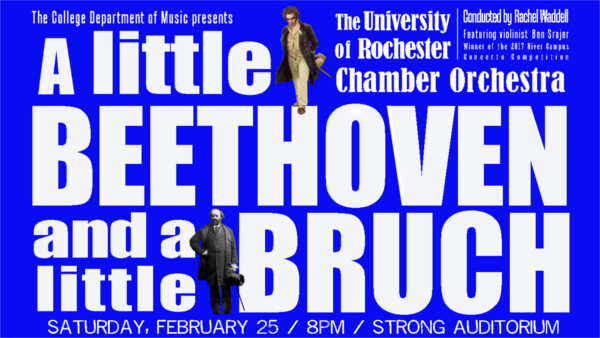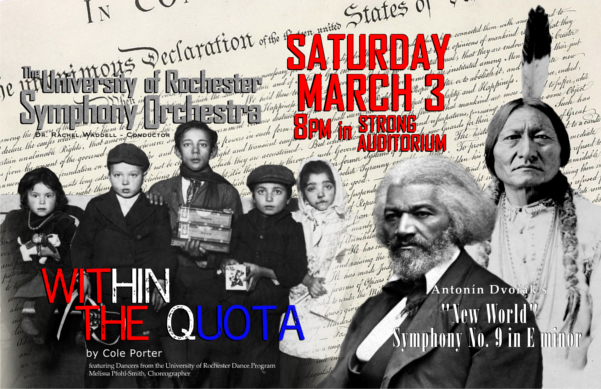 Admission is free unless otherwise indicated. Please contact the Department of Music to request any special accommodations or get directions.
NEW: See & hear our concerts in real time at http://www.rochester.edu/news/live/
Click on hyperlinked headings for program:
[All dates & times subject to change.]
For programs from previous semesters, visit the Concert Program Archive
NEW! - Click on   
   button for video!
---
Fall 2018
Wednesday, August 29: "Fanfare for the Common Man" - 8:30 AM, Eastman Quad
Friday, October 5: Chamber & Symphony Orchestra and Wind Symphony Meliora Concert - 7 PM, Upper Strong
Saturday, October 6: Rochester Sings!: Meliora Choral Concert - 7 PM, Upper Strong
Sunday, October 7: Jazz Ensemble & Gospel Choir Meliora Concert - 1 PM, Upper Strong
Thursday, October 25: River Campus Concerto Competition - 7:30 PM, Strong Auditorium
Friday, October 26: Women's Chorus Concert - 8 PM, Reformed Lutheran, Church 111 N Chestnut St
Saturday, October 27: Brass Choir's Spooktacular - 8 PM, Upper Strong
Sunday, October 28: Rock Repertory Ensemble Concert - 7 PM, Lower Strong
Sunday, November 4: Jazz Ensemble Concert - 2 PM, Lower Strong
Saturday, November 10: Gospel Choir Concert - 8 PM, May Room in Wilson Commons
Wednesday, November 14: Chamber Ensembles Concert - 8 PM, May Room in Wilson Commons
Sunday, November 18: Jazz Combos Concert - 7 PM, Lower Strong
Friday, November 30: Wind Symphony Concert - 8 PM, Upper Strong
Saturday, December 1: Symphony Orchestra Concert - 8 PM, Upper Strong
Thursday, December 6: Percussion Ensemble Concert - 8 PM, Upper Strong
Friday, December 7: West African Drumming Ensemble - 8 PM, May Room in Wilson Commons
Saturday, December 8: Chamber Orchestra & Concert Choir - 8 PM, Upper Strong
Sunday, December 9: Chamber Singers Concert - 4 PM, Hawkins-Carlson Room in Rush-Rhees Library
Sunday, December 9: Women's Chorus Concert - 7:30 PM, Kilbourn Hall, ESM
Sunday, December 9: Rock Repertory Ensemble Concert - 7 PM, Lower Strong
Spring 2019
Saturday, February 16: UR Institute for Popular Music Concert - 8 PM, Upper Strong
Friday, February 22: Wind Symphony, Brass Choir & Jazz Ensemble Concert - 8 PM, Upper Strong
Friday, February 23: Chamber Orchestra Concert - 8 PM, Upper Strong
Sunday, February 24: Women's Chorus Concert - 3 PM, Kilbourn Hall, ESM
Saturday, March 2: Symphony Orchestra Concert - 8 PM, Upper Strong
Sunday, March 3: Rock Repertory Ensemble Concert - 7 PM, Lower Strong
Sunday, April 7: Jazz Combos Concert - 7 PM, Lower Strong
Saturday, April 13: Chamber Orchestra Concert - 7 PM, St. Luke & Simon Cyrene ["Two Saints Church"], 17 S Fitzhugh St
Sunday, April 14: Women's Chorus Concert - 3 PM, Reformed Lutheran Church, 111 N Chestnut St
Sunday, April 14: Rock Repertory Ensemble Concert - 7 PM, Lower Strong
Wednesday, April 17: Chamber Ensembles Concert - 8 PM, May Room in Wilson Commons
Thursday, April 18: Brass Choir on the Quad - 5 PM, Wilson Quad
Friday, April 19: Wind Symphony Concert - 8 PM, Upper Strong
Wednesday, April 24: Gospel Choir Concert - 8 PM, May Room in Wilson Commons
Thursday, April 25: Percussion Ensemble Concert - 8 PM, Upper Strong
Saturday, April 27: West African Drumming Ensemble - 6 PM, May Room in Wilson Commons
Saturday, April 27: Symphony Orchestra Concert - 8 PM Upper Strong
Sunday, April 28: Concert Choir & Chamber Singers - 4 PM, Upper Strong
Sunday, April 28: Jazz Ensemble Concert - 7 PM, Lower Strong
Wednesday, May 1: 1812 Overture - 5 PM, Eastman Quad