Hopeman Memorial Carillon
About
The Hopeman Memorial Carillon, a set of bells played from a keyboard and pedalboard, hangs in the tower of Rush Rhees Library. It is one of only seven carillons in New York State. At 50 bells, it is considered a large carillon; by comparison the world's largest carillon in Bloomfield, Michigan has 77 bells.
Carillonist Doris Aman and her students perform frequently throughout the year and especially to mark major university events. For more information contact Doris at doris.aman@gmail.com.
More Information
Interested in playing the carillon? Community residents may now take lessons at Eastman Community Music School. ECMS offers their community of music students a carillon tour once each semester to see the carillon close up. Space limitations apply.
For more information or to make a donation, contact Jimmy Warlick in the music department at (585) 275-2828.
Videos
---
Images and Articles
---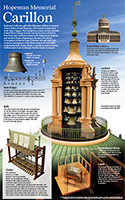 Pull-out illustration as seen in Rochester Review (July-August 2012) (.pdf)
---

Hand-drawn diagram of the bell tower (.pdf)
---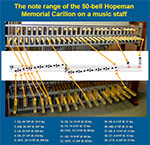 Keys and frequencies of the carillon keyboard (.pdf)