Culture in Context
Peace Studies at Rondine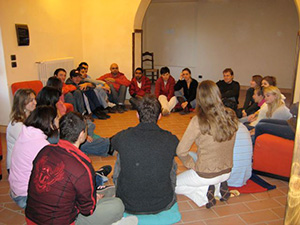 "Sincerely my impressions are more than positive. I was glad to see that you've broken existing prejudices about Americans—usually viewed as national-centric, arrogant, and less sensitive to non American cultures. Instead, they show us that they are really open-minded and outgoing persons who are without doubt real representatives of the American cultural spirit. I hope that in future I will know more Americans as they are. It was really a beautiful experience for me and I'm waiting impatiently for our next meeting."
- Rondine Student
---
U of R Student Testimonials
"I really enjoyed everything that we did today. Some of the things that I heard really affected me. The word "human" is something that more people need to realize is a universal truth."
"Identity is a universal idea that it was wonderful to delve into. I loved seeing all the ideas and interpretations that everyone had."
"Thanks so much for a great program. 
I thoroughly enjoyed our interactions, discussions and activities. Definitely an invaluable esperience!"
"Grazie per tutto. Mi è piaciuto molto conoscere gli studenti di Rondine. Questa è stata un'esperienza che mi ricorderò sempre."
"I have never been able to meet so many people from all over the world. I never would have had this opportunity. Thank you for opening your minds and hearts, Rondine. I feel richer now and will always remember this."
---
The Opinions of two Stranieri in Rondine
Robert Paine, 25, from Sierra Leone, arrived in Rondine on the 21st of July, 2007. He spoke no Italian, but upon meeting roughly 20 other stranieri from very diverse nations, he immediately began to learn "la lingua comune" in order to be able to communicate with his fellow students. In this new place, a completely different world for all those who stay at Rondine, each student overcame the difficulties of adjusting to a new culture in order to understand one another and truly become friends. Each student comes from a very diverse background, and from areas in crisis. In the peaceful setting at Rondine, young citizens of politically opposed nations can learn about each other, and about the conflicts present in their home nations. Before coming to Rondine, Robert was aware of many conflicts present in the world, but it was only after meeting the students of Rondine and hearing their stories that he really understood the dynamics of the crises.
Rondine is a paesino, a small town in which at least 13 different nations and languages are represented. In order for the international residents of Rondine to be able to communicate with one another, tell their stories, and learn about international cultures, the students learned Italian, their neutral language.
Natalia Lupiani, 27, from the United States, saw Rondine for the first time in November 2007. It seems to her that Italy is an ideal setting for an institution such as Rondine. The history of Italy is one of division and unification. For many years, Italy's peninsula was divided up into different nation-states, and today many regional dialects are present within the nation. For the Italian citizens, the Italian language is a neutral language that today helps to unify a diverse group of people with distinct and diverse cultures and backgrounds.
It seems that this Italian paesino, Rondine, has given Robert and the other international students a great opportunity for unique experiences. Each of the residents continues to move forward with their unique goals and plans, but Robert feels that Rondine is very much like a melting pot. All of the students love their own independent experiences, but sharing each other's cultures makes these experiences richer, and more poignant. Perhaps the most important part of the overall experience at Rondine is the closeness that the students have with one another. Students from Russia, Georgia, Palestine, Israel, and many other countries, can live together, share their cultures, and learn about places and backgrounds that they might otherwise never encounter. The peaceful setting in Rondine has allowed the international students to become a family abroad. In this way, Rondine is like a small United Nations in Italy.