Philip S. Bernstein Chair of Jewish Studies
Inaugural Lecture
"Jewish Studies Then, Jewish Studies Now"
Aaron Hughes
Professor of Religion
Philip S. Bernstein Chair of Jewish Studies
Wednesday, October 30, 2013
5:00 PM
Hawkins-Carlson Room, Rush Rhees Library
The event is free and open to the public. Reception will follow in the Welles-Brown Room.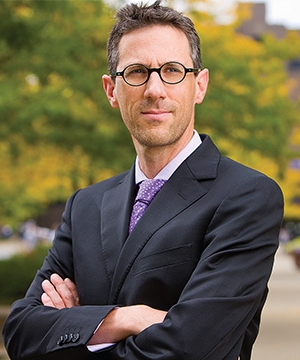 Aaron Hughes is Professor of Religion and the third Philip S. Bernstein Professor of Jewish Studies.  He was previously the Gordon and Gretchen Gross Professor of Jewish Studies and Associate Director of the Institute of Jewish Thought and Heritage at the University at Buffalo.  He received his Ph.D in religion at Indiana University in 2000.  Aaron's research interests are wide-ranging, but he works primarily on Jewish and Islamic philosophy in the medieval and early modern periods.  His most recent books are Abrahamic Religions: On the Uses and Abuses of History (Oxford University Press) and Muslim Identities: An Introduction (Columbia University Press).  Previous books include Theorizing Islam (2012), The Invention of Jewish Identity (2010) The Art of Dialogue in Jewish Philosophy (2008), Situating Islam (2007), Jewish Philosophy, A-Z (2005), and The Texture of the Divine: Imagination in Medieval Islamic and Jewish Thought (2004).  Aaron is also the editor or co-editor of five volumes.  He was recently named editor of the journal Method and Theory in the Study of Religion. 
---
Sponsored by The Department of Religion and Classics, and The Center for Jewish Studies.
For further information, contact the Department of Religion and Classics at 585.275.5378 or email Edward Wierenga.