Humanities for Life Internship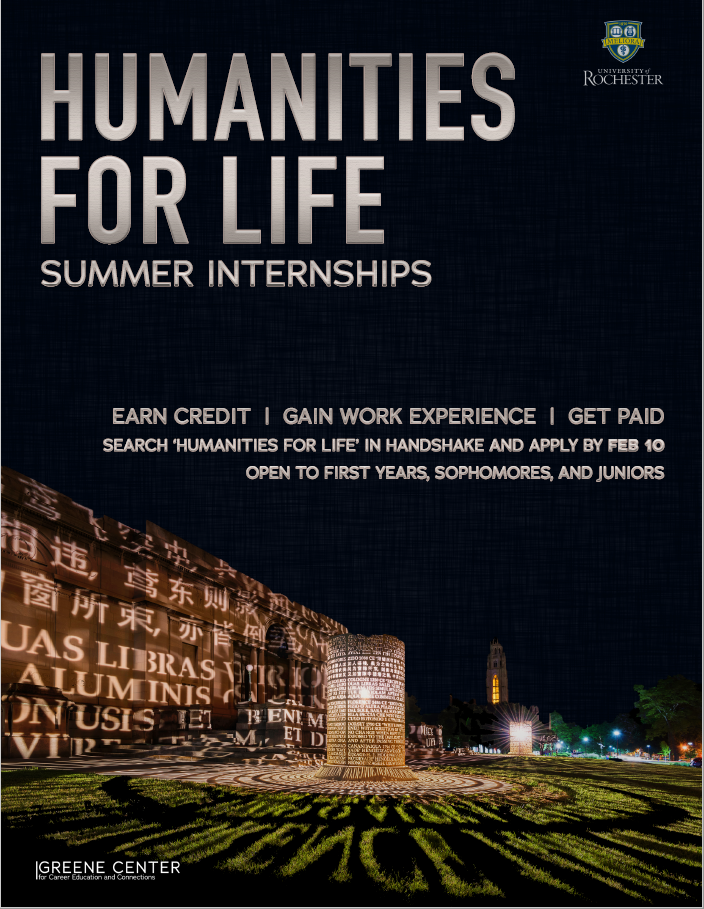 This new program, supported with a five-year grant from the Andrew W. Mellon Foundation, matches 15 students interested in the arts and humanities with local arts, cultural, and nonprofit organizations. The paid, 30-hour-per-week internships help Rochester students explore how their skills can be engaged professionally, for the good of the community.
Students accepted into the program receive the following:
$5000 stipend

10 week summer internship

Organized professional and social programs across the Rochester-area

Internship credit with transcript notation

Exposure to multiple organizations

Community of current and past HFL interns

A dedicated career advisor

Humanities for Life swag

The application deadline for Summer 2020 is February 11 and can be found by searching for "Humanities for Life Internship 2020" on Handshake. Interviews will be offered throughout the month of February and final selections will be made in early March. Please note that students can apply to as many postings as they are interested in. Only first-year, sophomore and junior students at the College of Arts, Sciences and Engineering are eligible to apply, including international students and Dual Degree Eastman Students.
Participating organizations include the George Eastman Museum, Garth Fagan Dance, Hochstein School of Music, Memorial Art Gallery, Open Letter Books, Out Alliance, Rochester Philharmonic Orchestra, Strong National Museum of Play, Visual Studies Workshop, Writers & Books, Girls Rock! Rochester, 540 WMain, Joseph Avenue & Cultural Alliance, Arts in the Loop, and the Avenue Blackbox Theatre.
Click here to read more about the current interns and the connections they made between their projects, the Rochester community and the humanities. 
Students can find internship postings by searching for "Humanities for Life" in Handshake.