Earthquakes, Volcanoes and Mountain Ranges in California:
A Field Quest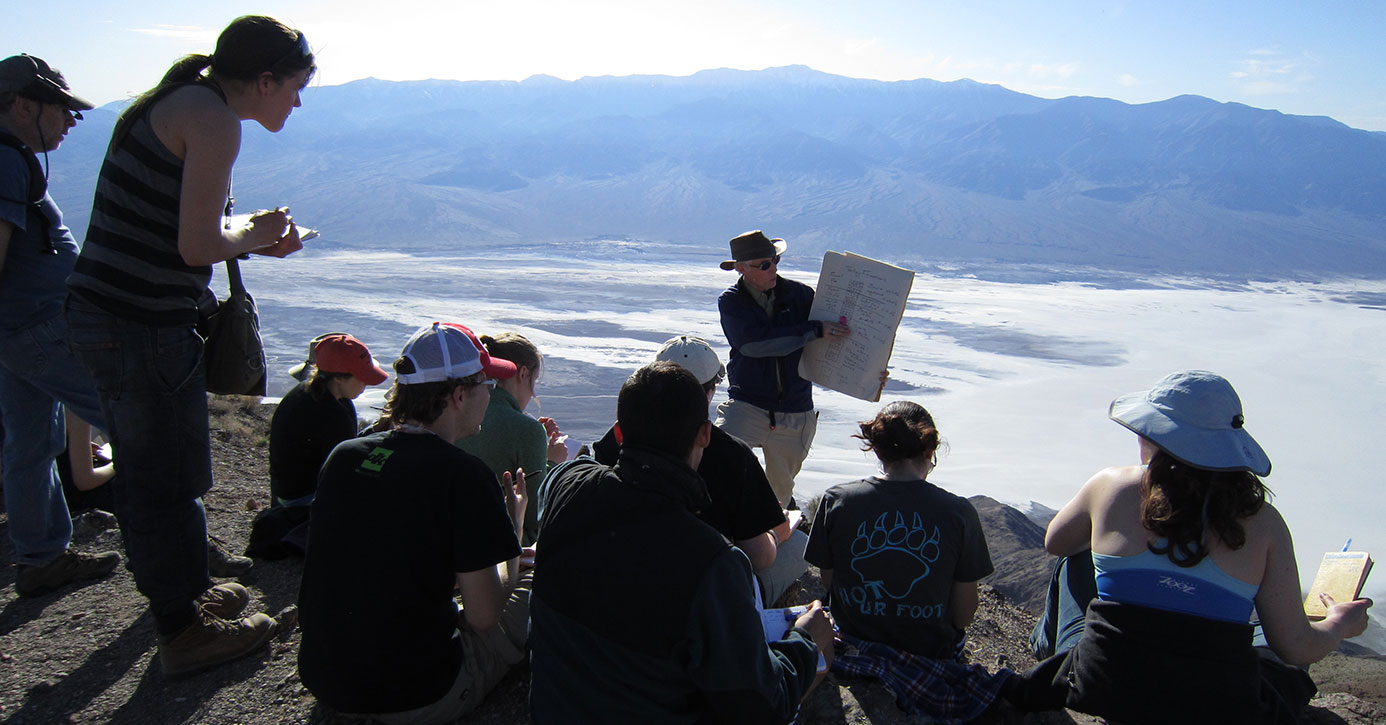 Death Valley field lecture.
Instructors
This class will be taught by Professor John A. Tarduno and Dr. Rory Cottrell, Department of Earth and Environmental Sciences, as well as their graduate teaching assistants.
Course Description
Understanding how the earth works starts with gaining an appreciation of geological processes in action. To observe these dynamic processes, which include earthquakes, volcanic eruptions and mountain formation, earth scientists must travel to areas of geologic youth, such as California. In this Quest, students are introduced to active geology through readings and discussion sessions in preparation for a field excursion to California. During the excursion, students will learn to critically examine ideas on how active earth systems work and how active geological processes can affect society.
Field Excursion (Required)
The field excursion is tentatively scheduled for March 9-18, 2018, during University of Rochester spring break. Dates may shift by one day depending on logistics as final plans are made.
Field Requirements
We will be camping throughout California. All camping gear will be provided with the exception of personal sleeping bags and ground pads which students must supply.
Costs
While the cost of the field excursion is partially supported by the College, students will still need to contribute $400 per person. Students must submit a check to the Department of Earth and Environmental Sciences, University of Rochester, 227 Hutchison Hall, Rochester NY, 14618 c/o Melissa Napolitano, by December 15, 2017.
Make checks payable to the Department of Earth and Environmental Sciences.
Enrollment
Enrollment is limited to 12 students. First year students, and students without prior course experience in the earth sciences should enroll in EES 102Q; all others should enroll EES 202.
Course assignments are similar between 102 and 202, but there are higher standards for the field assignments and final project for 202, reflecting a prior earth science experience.
Application
Because of logistical constraints we can only offer this opportunity to 12 students. First year students will be given preference, but typically the class includes a mix of first year students and sophomores, juniors, and seniors. All students must complete the application and brief essay below which will be used to select the class.