Winter Class Offerings in Dance and Movement!
Monday, January 11–Friday, January 29, 2021
Online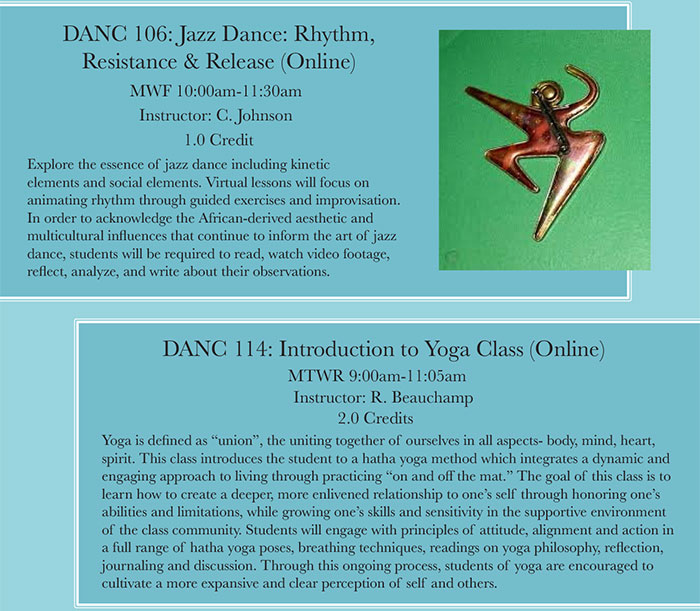 ---
DANC 106: Jazz Dance: Rhythm, Resistance and Release (online)
MWF 10-11:30 a.m.
Instructor: C. Johnson
1.0 Credit
Explore the essence of jazz dance including kinetic elements and social elements. Virtual lessons will focus on
animating rhythm through guided exercises and improvisation. In order to acknowledge the African-derived aesthetic and multicultural influences that continue to inform the art of jazz dance, students will be required to read, watch video footage, reflect, analyze, and write about their observations.
---
DANC 114: Introduction to Yoga Class (online)
MTWR 9-11:05 a.m.
Instructor: R. Beauchamp
2.0 Credits
Yoga is defined as "union", the uniting together of ourselves in all aspects- body, mind, heart, spirit. This class introduces the student to a hatha yoga method which integrates a dynamic and engaging approach to living through practicing "on and off the mat." The goal of this class is to learn how to create a deeper, more enlivened relationship to one's self through honoring one's abilities and limitations, while growing one's skills and sensitivity in the supportive environment of the class community. Students will engage with principles of attitude, alignment and action in a full range of hatha yoga poses, breathing techniques, readings on yoga philosophy, reflection, journaling and discussion. Through this ongoing process, students of yoga are encouraged to cultivate a more expansive and clear perception of self and others.
---
All courses in the Program of Dance and Movement can be applied to the dance minor, movement studies minor, or dance major.