"Struggle Towards Freedom"
Sunday, February 23, 2014
3:00 p.m.
Alumni and Advancement Center Auditorium on the University of Rochester's Brighton campus, 300 E. River Road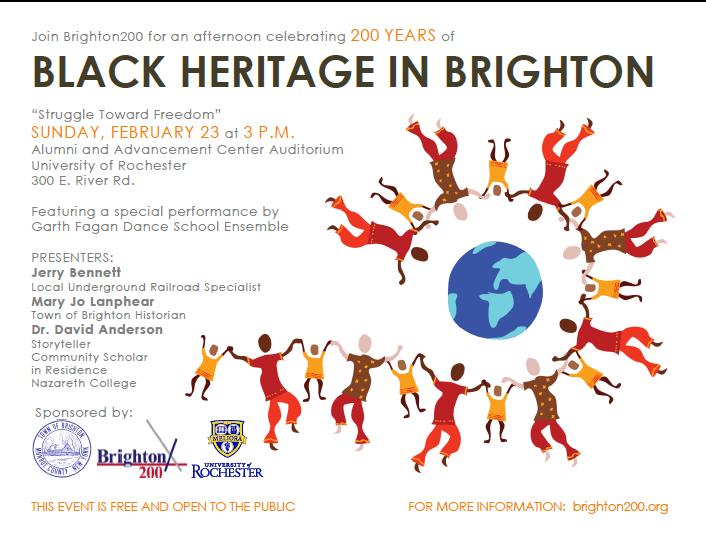 BRIGHTON, N.Y. – In recognition of Black History Month this February, the Town of Brighton's Bicentennial committee will present "Struggle toward Freedom," a celebration of local African-American heritage and the Brighton landmark noted for its role as a stop on the Underground Railroad. The event will feature a special performance by Garth Fagan Dance School Ensemble.
"Struggle toward Freedom" will take place on Sunday, February 23 a t 3 p.m. at the Alumni and Advancement Center Auditorium on the University of Rochester's Brighton campus, 300 E. River Road. This event is free and open to the public and is being sponsored by the University of Rochester.
"This is a wonderful opportunity for the Garth Fagan Dance Ensemble to perform and to help celebrate Brighton's Bicentennial," said Bill Ferguson, resident choreographer at Garth Fagan Dance School.
The program will include opening remarks by Reverand Lawrence Hargrave of Asbury First United Methodist Church , followed by presentations by guest speakers Jerry Bennett, a local Underground Railroad specialist, Mary Jo Lanphear, town of Brighton historian and Dr. David Anderson, Community Scholar i n Residence in the College of Arts and Sciences and the School of Education at Nazareth College. The program will conclude with a special performance of "Ingane-mi" (my children) featuring area youth from Garth Fagan Dance School Ensemble.
About Brighton 200
Brighton200 is a program of the Town of Brighton, coordinated by a volunteer Bicentennial Committee, designed to plan and celebrate 200 years of Brighton's growth and history throughout 2014. Other special events planned for early 2014 include a historic reenactment of the first town board meeting at the Stone-Tolan House in April and a community picnic in June. For more information, visit Brighton200.org.
High-res photos of Brighton and the Brighton200 logo are available upon request.
For More Information Contact:
Mary Ann Hussar or Ray Tierney – Bicentennial Committee Chair Assistant to the Supervisor 585-233-3288 Town of Brighton rjtthree@aol.com
585-784-5252, maryann.hussar@townofbrighton.org
Brighton200 honors African-American History with Community Black Heritage Celebration.